Walking Backwards Into the Future: Analyzing 15 Years of Y-3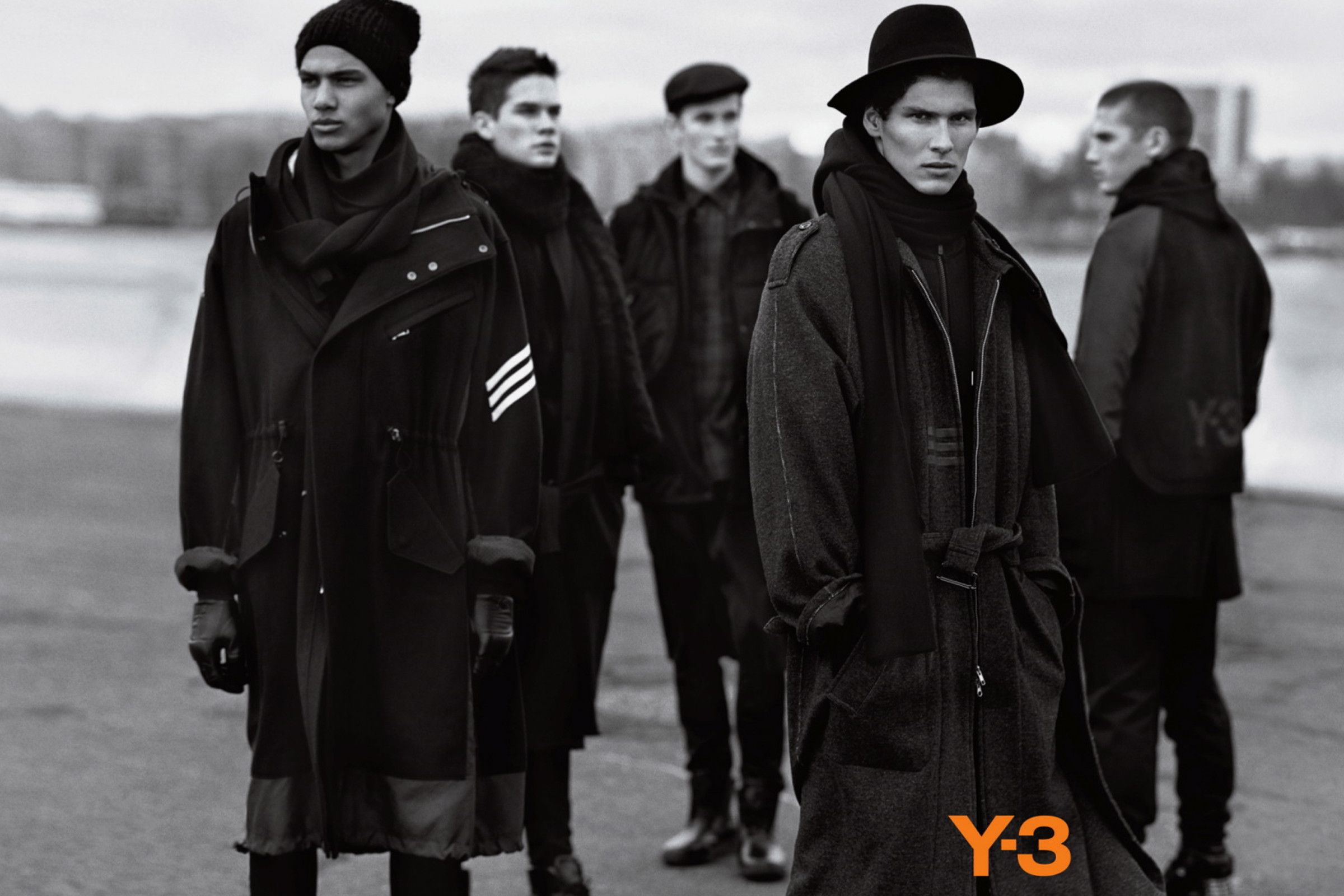 Walking Backwards Into the Future: Analyzing 15 Years of Y-3
In 2003 Yohji Yamamoto and adidas began Y-3, a collaboration that, when surveying fashion's recent history, was and remains supremely ahead of its time. Long before designers like Raf Simons and Rick Owens worked with adidas, before anyone could imagine Jun Takahashi having a recurring collection with Nike, before "athleisure" ever spun forth from a marketer's lips, there was Y-3. Yamamoto and adidas defined the now familiar meeting place of fashion and sportswear.
By the time Yamamoto approached adidas, his namesake label was more than 30 years old, his story well-chronicled and his status as a legend of avant garde fashion thoroughly cemented. By his own admission, Yamamoto's enthusiasm for fashion was waning.
"Fashion had become so boring," Yamamoto told i-D in 2016. "I felt I had come too far from the street. I couldn't find people wearing my clothes anymore and I felt so lonely. At the time, New York businessmen were starting to walk to work in their suits and sneakers. I found this strange mix incredibly charming, a fascinating hybrid."
Follow Angelo on Instagram here.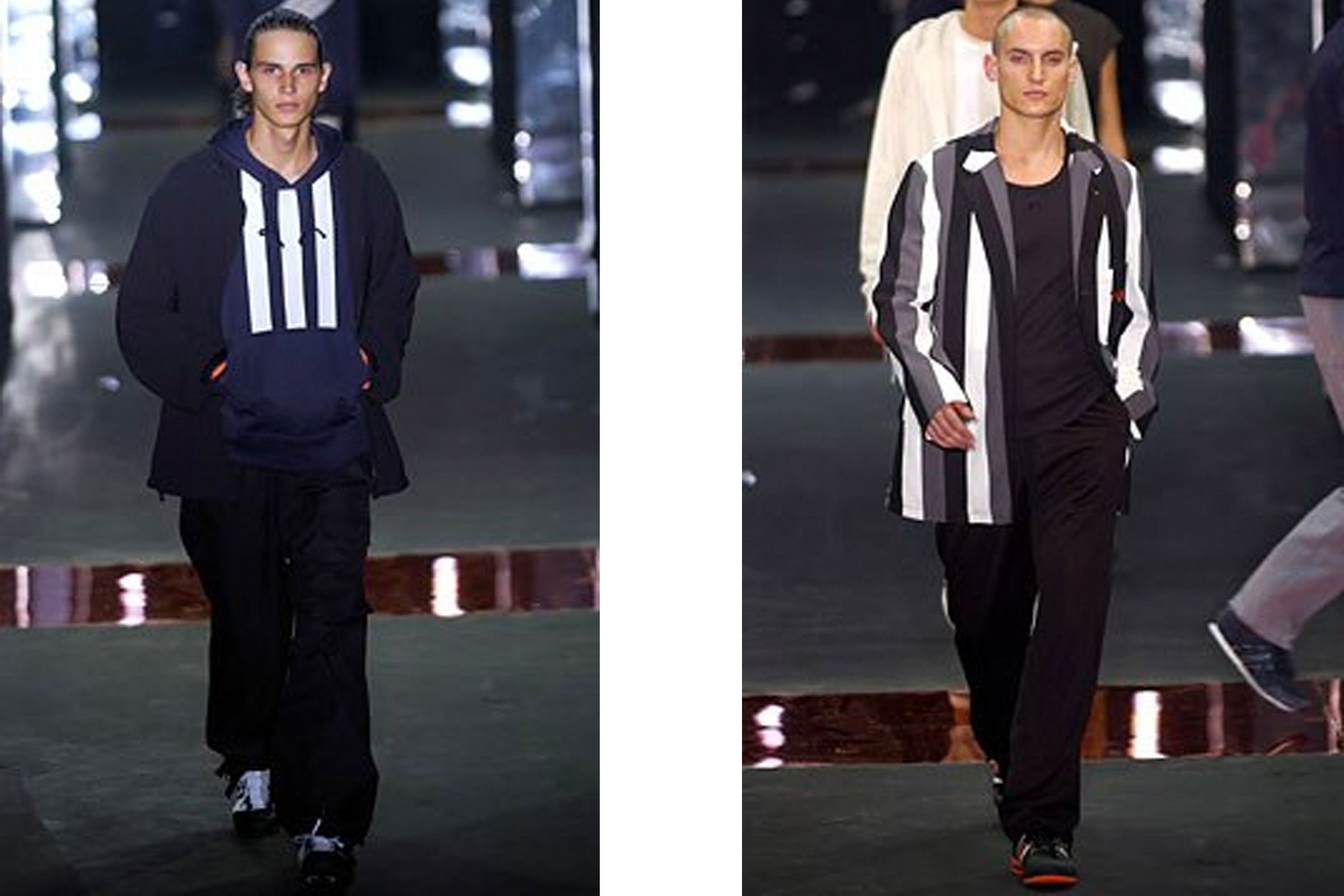 But adidas was not the first name Yamamoto thought of when he set his eye on athletics.
"I made a phone call to Nike," Yamamoto told Style.com (now Vogue Runway) in 2015. "They gave me a very proper answer: 'Thank you very much, Mr. Yamamoto, but we are going never to fashion, we are going only to sportswear."
Yamamoto then turned to adidas.
"In the beginning we just wanted to borrow some 'three stripes' trainers from adidas for my Fall/Winter 2000-01 show," Yamamoto told Interview Magazine in 2013. "In Japan, the three stripes were everywhere, and the young crowd did not take them off even when it was time to go to bed."
Unlike Nike, adidas was immediately receptive. At the time such a collaboration was a shock to the industry.
"For most of his lengthy and impressive career, Yohji Yamamoto has been aligned with design's avant garde: influential, admired and respected," Vogue wrote after the debut of Y-3's first collection. "But never what you might call a big commercial success."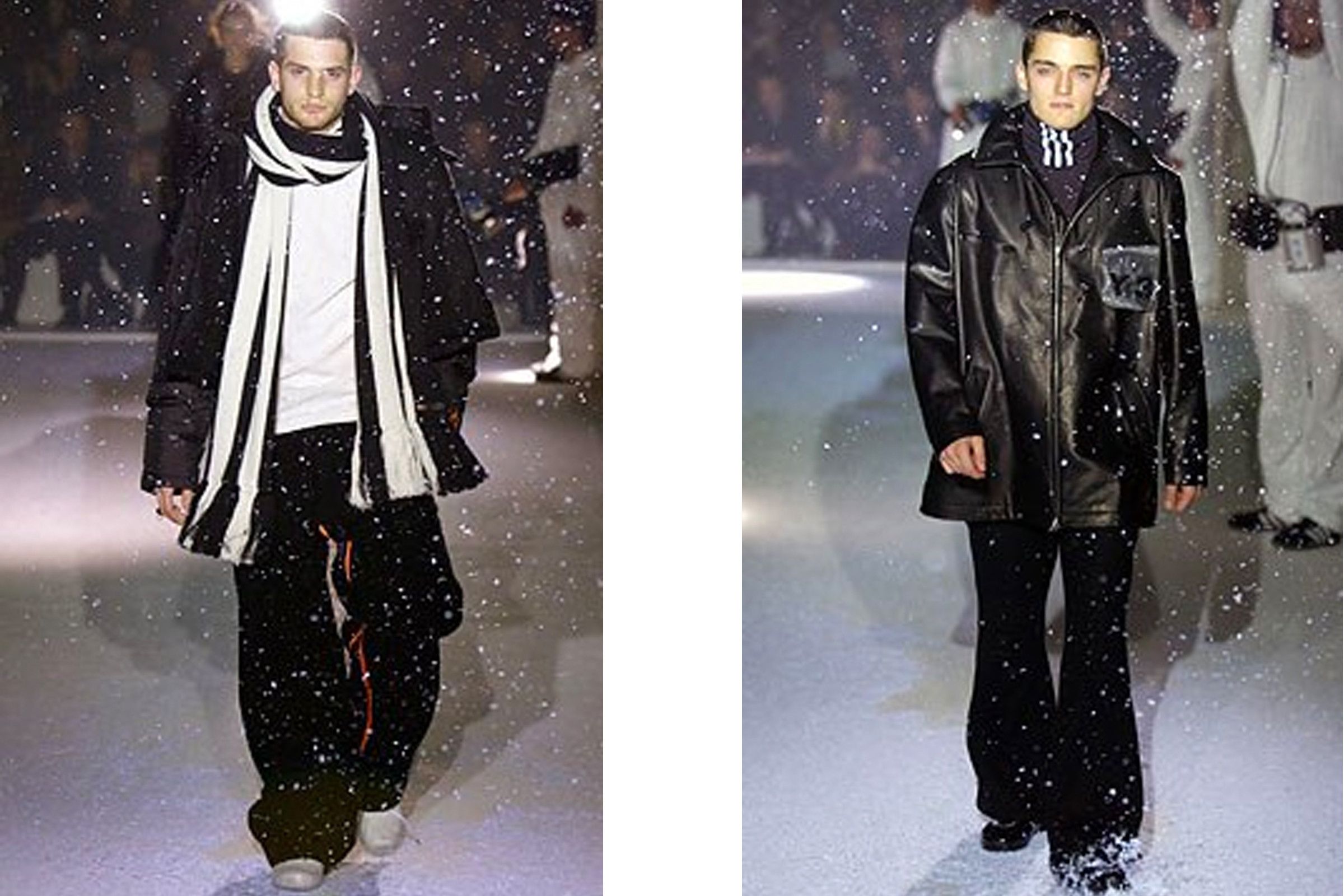 Adidas was taking a massive gamble, but early reception of the collection was overwhelmingly positive. Y-3 sent more than 60 looks down the runway, showing the breadth of Yamamoto's creative interpretation of "the brand with the three stripes."
Those stripes, along with the brand new Y-3 logo, were brandished liberally across oversized track pants and hoodies, jumpsuits, robes and blazers. The typically Yohji, minimal color palette of black, white and navy worked to temper the boldness of athletic branding. And when, toward the end of the collection, stripes and bright floral prints shared the canvas on a handful of shorts, jackets and dresses, the chaos worked.
The brand's second collection, Fall/Winter 2003, was even stronger, Yamamoto's masterful eye for volume and proportion meshing perfectly with cold weather staples like parkas and scarves. Against, perhaps, all logical estimates, the marriage between Yohji and adidas was harmonious.
"It's a tension between Yohji and adidas," explained Y-3's design director for footwear. "If it's too adidas, it doesn't work. If it's too Yohji, you can buy that already from Yohji. It's when these two things that shouldn't go together, do come together, you create something new."
From the start Yamamoto embraced, and was invigorated by, the challenge of designing within the loose framework of the sportswear giant.
"At the time I was really tired of making fancy clothing," he said. "This collaboration was sporty but elegant. It was complicated, difficult. I was inspired."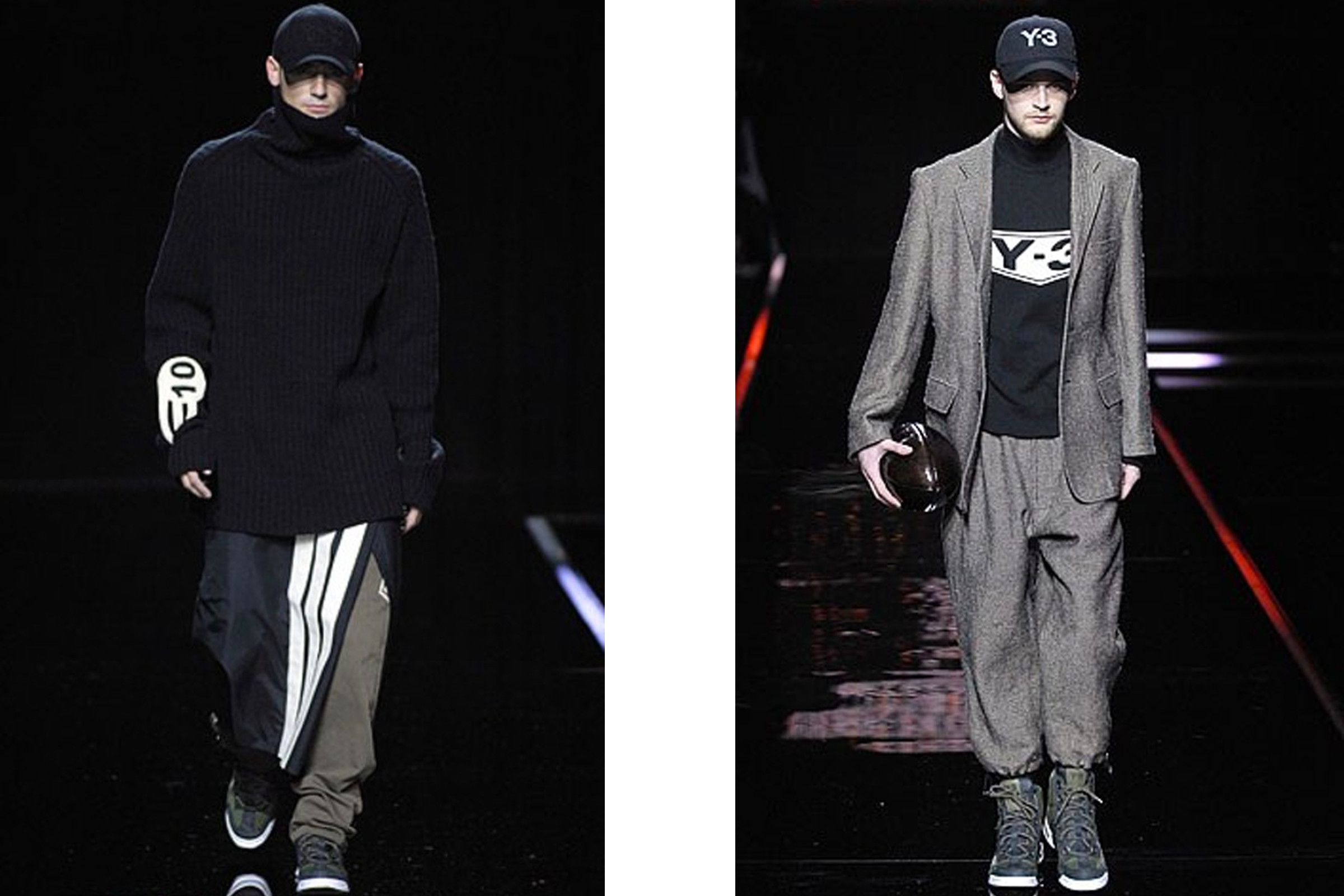 By the middle of the decade Y-3 had hit its stride. Sales were good, and Yamamoto's penchant for theatrical runway shows made every season's presentation an event. Y-3's Fall/Winter 2007 collection, which legendary fashion writer Tim Blanks noted for its "increasing sophistication," was shown on the basketball court of Hunter College in New York City.
The collection encapsulated the height of what Y-3 could be. The charm and kitsch of sports graphics, presented with an almost cartoon softness, were patched onto knit suits and nylon parkas. Washed leather moto jackets preceded exaggerated ribbed turtlenecks, perfectly cut peacoats and sweats, each with cinched cuffs. At its most commercial, the collection recalled David Beckham at his best. But there were classic Yohji touches as well: A three-striped sarong topped with green military style vest, fuchsia striped trousers and double-breasted blazers.
A year later, in 2008, Y-3 opened its first standalone store in New York's West Village. The glowing, if somewhat bemused New York Times review of the store echoed the strange accessibility of the collaboration.
"Yohji Yamamoto's own line of clothing sometimes makes you feel as if you are too stupid to understand it," wrote The Times' Mike Albo. "But the Y-3 collaboration gives the designer a healthy set of limits for his ideas to have more popular appeal."
Indeed Yamamoto himself credits the constraint of adidas with stimulating his creativity.
"If I'm told 'Yohji, you are free, you can do anything you want,' then I struggle," he explained in 2013.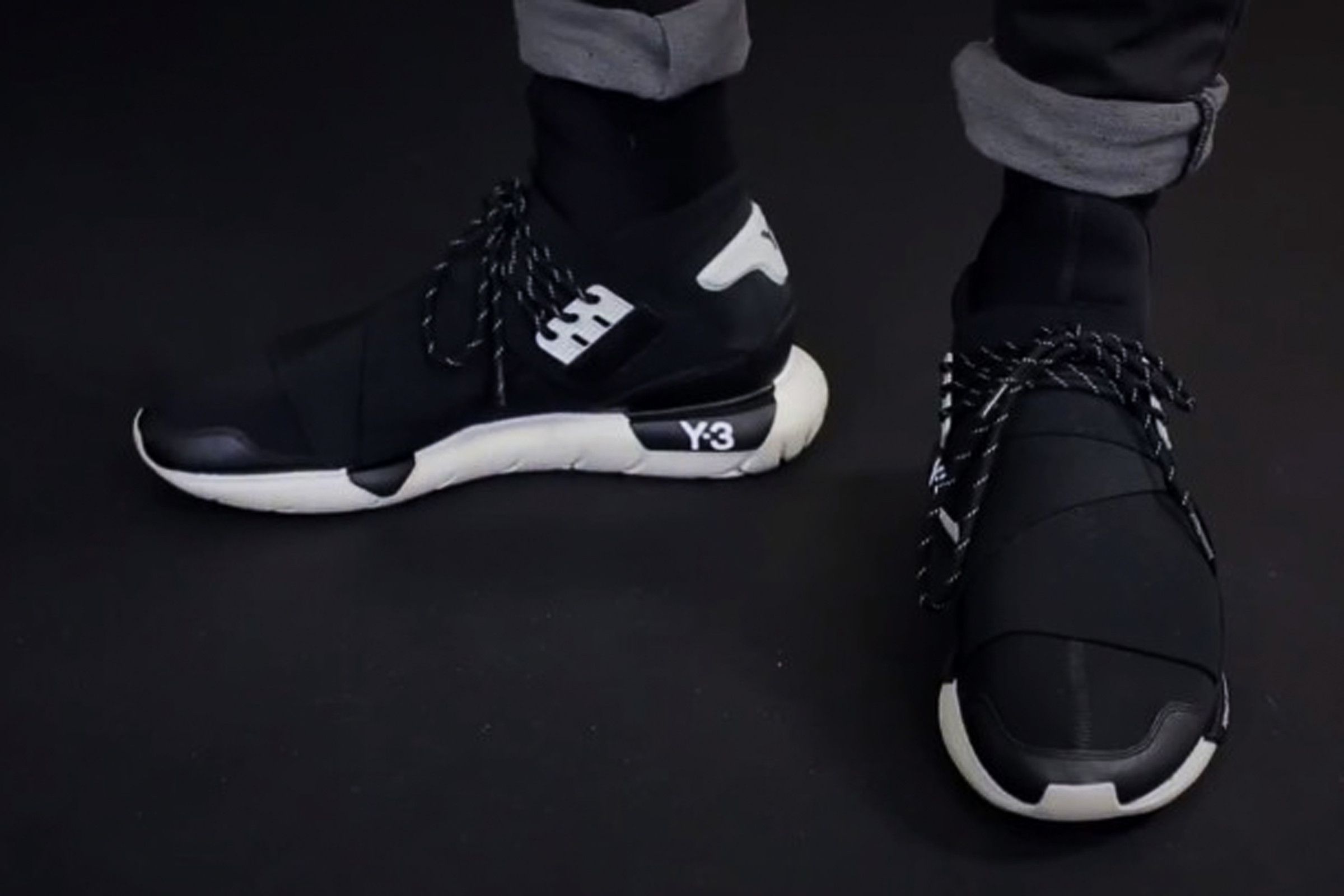 But not every Y-3 collection is met with glowing approval. A need for "editing" is a common criticism, and every few seasons the brand's output unsuccessfully strays from the core aesthetic. The early collections, at their worst, were too heavily influenced by the early aughts, veering toward excess rather than restraint. Later, for Spring 2011, the brand half-heartedly explored a theatrical, rock-and-roll motif while abandoning nearly all the athletic charm of adidas. Y-3 is strongest when both parties are equally represented.
Despite fair critiques—a Yohji Yamamoto project is never going to please everyone—the commercial longevity of the brand cannot be denied.
"Surely the Y-3 formula—replicated so often by adidas and other sportswear companies since—is obvious," wrote Vogue alongside its review of Y-3's Fall/Winter 2017 collection. "Add a brand that every kid on the planet knows about to a brand every fashion-curious kid might have heard of. Then let them bask in the righteousness of wearing a high-fashion label whilst being simultaneously reassured by its sportswear partner's ubiquity."
In adidas' ubiquity rests the other, equally obvious reason for the brand's popularity and success: sneakers. Y-3 has created too many sneakers, iterations on adidas classic silhouettes and wholly unique shoe designs, to list. The brand didn't, as one writer for Interview wrote, create the designer sneaker market, but they certainly were a catalyst to the movement. Y-3's rise, too, coincided nicely with the steady growth of mainstream sneaker culture. Shoes put the brand in front of customers who may never have had interest in Yohji before.
Even as Yamamoto's own brand struggled in the wake of the global financial crisis of the late 2000s, Y-3 stayed relatively strong, thanks largely to demand for its high-priced sneakers. In 2013, a decade into Y-3, the brand released what has become its most well-known and coveted sneaker design—the Qasa—spawning multiple recurring versions thereof. The collaboration between Yamamoto and adidas started with sneakers, and on sneakers its success will continue to depend.
Though the brand's history is relatively short, and Yamamoto himself is now in his mid-70s, Y-3 is still barrelling ahead. The brand's aesthetic has always had a futuristic lean, and in 2016, when they were tapped to design the flight suits for Virgin Galactic's pilots, that futurism was put to a practical test (though Yamamoto joked that he wouldn't make it to space, because you can't smoke cigarettes there.) In their review of the first American Y-3 store, The New York Times noted a pair of gold metallic sneakers which "looked as if they were designed for a stroll on the surface of Mars." In the near future this may be more reality than mere observation.
In fact, the latter half of Y-3's reign has been arguably stronger than the first. In 2012 the brand captured British cool in a manner that has eluded Brits themselves, tastefully showcasing the obvious but not easily subdued connection between plaid and sport.
For Fall/Winter 2015 Y-3 presented one of the most subtle and luxurious explorations of militaria, perhaps fashion's most trod and tired ground, in recent memory. A parade of rich, minimally branded, monochromatic flight suits and jackets punctuated by heavy knits and soft, elementary camo prints painted a picture of a not-too-distant future where class allegiances are even more closely tied to one's chosen attire. If Fall/Winter 2015 showed us the uniform of the stylish oppressor, Spring/Summer 2017, another triumph, is the garb of the youthful resistance, ready to riot or rave, depending on circumstance. Yamamoto is thinking about what his customers may be facing in 10, 20 years, and how they might look their best as they do battle.
To those not paying close attention it may seem amiss to praise the consistency of a brand and a designer who deal so liberally in whim and experimentation. Yet, while each collection features a dizzying range of garments in unexpected fabrics, patterns and finishes, the Yamamoto touch is always there, largely unchanged. The first Y-3 collection and the most recent both feature overalls (hardly an adidas staple), jumpsuits and oversized shorts. The collaboration's commitment to trying anything and everything has kept it from falling victim to trends, leaving each season feeling both new and, usually, just the right amount of familiar.
Yamamoto's age has led to questions about his future in the industry, but the designer has given no indication of slowing in his mainline or in his work with adidas. It is not naively optimistic to think the man may go on surprising us for years to come. The collaboration has spurred an impressive momentum that would be hard to stifle. As Yamamoto famously stated, "With my eyes turned to the past, I walk backward into the future"; at this point, it seems, the only thing that could stop Y-3 is the the Y himself.