Don't Give A FUCT: A History of Upending The Status Quo
Don't Give A FUCT: A History of Upending The Status Quo
There are two schools of thought when it comes to Erik Brunetti. The uninitiated tend to see him as streetwear's version of The Simpson's "Old Man Yells at Cloud"—he is opinionated and unapologetic. For others, particularly those of a certain age, he is the godfather of modern streetwear—despite the fact that he hates streetwear. If Erik Brunetti and Natas Kaupas had launched FUCT in 2018 it would be decried as another brand polluting streetwear and fashion with quick logo flips. But Brunetti and then-partner Kaupas—a California skateboarding legend—didn't launch FUCT in 2018, they launched it 28 years ago, in 1990.
FUCT is not merely another streetwear brand and it isn't just another brand hopping on the graphics-heavy bandwagon. FUCT hasn't recently discovered the art of the logo-flip, nor has it suddenly found a political voice in uncertain and tumultuous times. No, FUCT is, and always will be, the originator of a brand of street fashion that makes people uncomfortable. As Brunetti recently told London-based Goodhood, "literally everything you see in the industry, there's a line that goes directly back to FUCT."
Follow Marc on Twitter here.
Born in New Jersey, in 1968, Brunetti spent his early adult years on the East Coast, working as a bike messenger. Brunetti's love of skateboarding pushed him West, where he discovered a vibrant and stimulating creative community in Venice Beach. "Dangerous and alluring," is how Brunetti remembers the city, an environment that no doubt had a lasting effect on both Brunetti and his future label.
FUCT's essence is clearly informed by the pervasive anti-establishment attitude that Brunetti and Kaupas were immersed in. "I was very aware of the subversive messages on garments and art in the past," Brunetti told Hammer Smashed Sound in a 2009 interview and he has openly acknowledged the influence of Steve Rocco and the World Industries crew's antagonistic and nihilistic approach to design. Even the name, FUCT, and the brand's iconic logotype played on an ambiguous nihilism. It all looked polished, but, when verbalized, was anything but. "It was meant to look alluring, offensive, and corporate all at the same time, to fool people into thinking it was pronounced a different way," Brunetti said.
Brunetti didn't feel he was necessarily bringing anything new to the table with FUCT and he didn't harbor any grand ambitions for the brand. "There was no plan," said Brunetti, rather bluntly. FUCT was "just a subversive clothing brand," albeit one that presented nihilist anti-establishment worldview to a new, wider market.
FUCT was supposed to be ephemeral, a fleeting of-the-moment project, and Brunetti and Kaupas didn't expect the brand would last more than a year or two. For that reason, Brunetti could have cared less about outside recognition—he used his money to create FUCT and he would be damned if he was out to please anybody but himself. That inward-facing accountability allowed Brunetti and his then-partner to create some of the most iconic FUCT graphics in the early-'90s.
Even if you only have cursory knowledge of '90s streetwear or FUCT, there is one such early graphic T-shirt that you have undoubtedly seen: Brunetti's Ford FUCT design. It was brazen and it was bold—Ford's iconic blue oval and white script recreated inch for inch, but with the Californian clothing brand's name replacing the Detroit auto manufacturer's. FUCT was served with a cease-and-desist, but at the time, Brunetti didn't even know what that meant. To him Ford FUCT wasn't about making money off of Ford's likeness, nor was it done for shock value. Brunetti saw Ford FUCT as falling into the realm of pop art—using pop culture references and people's collective memory of those images and designs to create art through juxtaposition. If Andy Warhol could do it with Campbell's and Brillo, why couldn't Brunetti and FUCT do it?
Ford wasn't the only recognizable design to be revisited by FUCT, as Brunetti appropriated a host of pop culture references ranging from Jaws and The Rolling Stones to Planet of the Apes and Apocalypse Now. While today, brands that pump out graphics like these are a dime a dozen, it was was relatively unchartered territory in the '90s. "There wasn't a brand on the market that was subversive," Brunetti told Goodhood. He was right; there were subversive T-shirts, produced in limited numbers, but there wasn't a brand that had built its DNA on subversion.
As alluring as FUCT's early graphics were, these were the pre-internet days and Brunetti needed to get the product in front of people, physically. He couldn't just put a few renderings online and send a lookbook out into the internet ether. "James [Jebbia] brought FUCT into Union and it branched out from there," he told Hammer Smashed Sound.
For those unfamiliar with '90s New York streetwear—before he made half-a-billion dollars with Supreme, James Jebbia founded Union with Mary Ann Fusco. At the time, Union was a directional skate and street culture shop in New York that introduced brands like Stüssy and Pervert to the city. Today, you might recognize Union as one of the most influential high street boutiques in the world, based out of Los Angeles and, most recently, Tokyo.
FUCT grew out of Union (with whom the brand has maintained a close relationship), with the brand's aforementioned graphics and name making it popular and recognizable. Gradually the brand appeared in more storefronts and came to represent a certain attitude and adherence to a particular philosophy about American culture. Stockists included skate shops and edgier street culture boutiques alike, on both coasts and overseas.
Thankfully, Brunetti's indifference to outside opinion was not curtailed by FUCT's success throughout the '90s. FUCT's no-fucks-given attitude is what endeared it to thousands. If anything, some of FUCT's later graphics were more daring—offensive, even—than what the brand put out in the early-'90s. FUCT has released T-shirts bearing a eulogy to Saddam Hussein and the Totenkopf Skull merged with the Playboy logo (seen on a mug here).
As Jeff Staple explained to Complex, wearing FUCT came to be about being a smart-ass disruptor. "This was that shirt that as a youngster, you specifically wore this to the dinner table with your family so you would get yelled at. But then your rebuttal is that this isn't a curse word."
Then, there was FUCT's acquisition of the copyright to the Symbionese Liberation Army's seven-headed cobra. The SLA was a California-based domestic terrorist organization that operated in the mid-'70s —the seven-headed cobra was based on the seven principles of Kwanzaa and the illustration drawn from Sri Lankan and Indian lore. When Brunetti found out that the SLA's version wasn't copyrighted, he claimed it and proceeded to release crewnecks and T-shirts emblazoned with the recognizable graphic in 2008.
All of these instances typify FUCT's existence as a brand that sits outside the establishment but understands the legal rules of the game and is wont to play by them when appropriate. In Brunetti's own words, "To be outside the law, you need to learn the law. That's the only way to fight it." FUCT didn't have to acquire the seven-headed cobra copyright, but by doing so the logo became FUCT's rather than the SLA's. Ditto for Brunetti's legal quest for FUCT itself to be copyrighted, which raised important questions about whether a trademark could be denied simply because it was deemed to be offensive, or because the brand in question was merely re-appropriating pop culture references.
Thus, it's evident that, beyond making scandalous T-shirts, FUCT has had a palpable impact on American culture. Over the course of the '90s and early-'00s, FUCT and Brunetti helped install the T-shirt as a powerful art form and medium for political expression, however uncomfortable it made observers.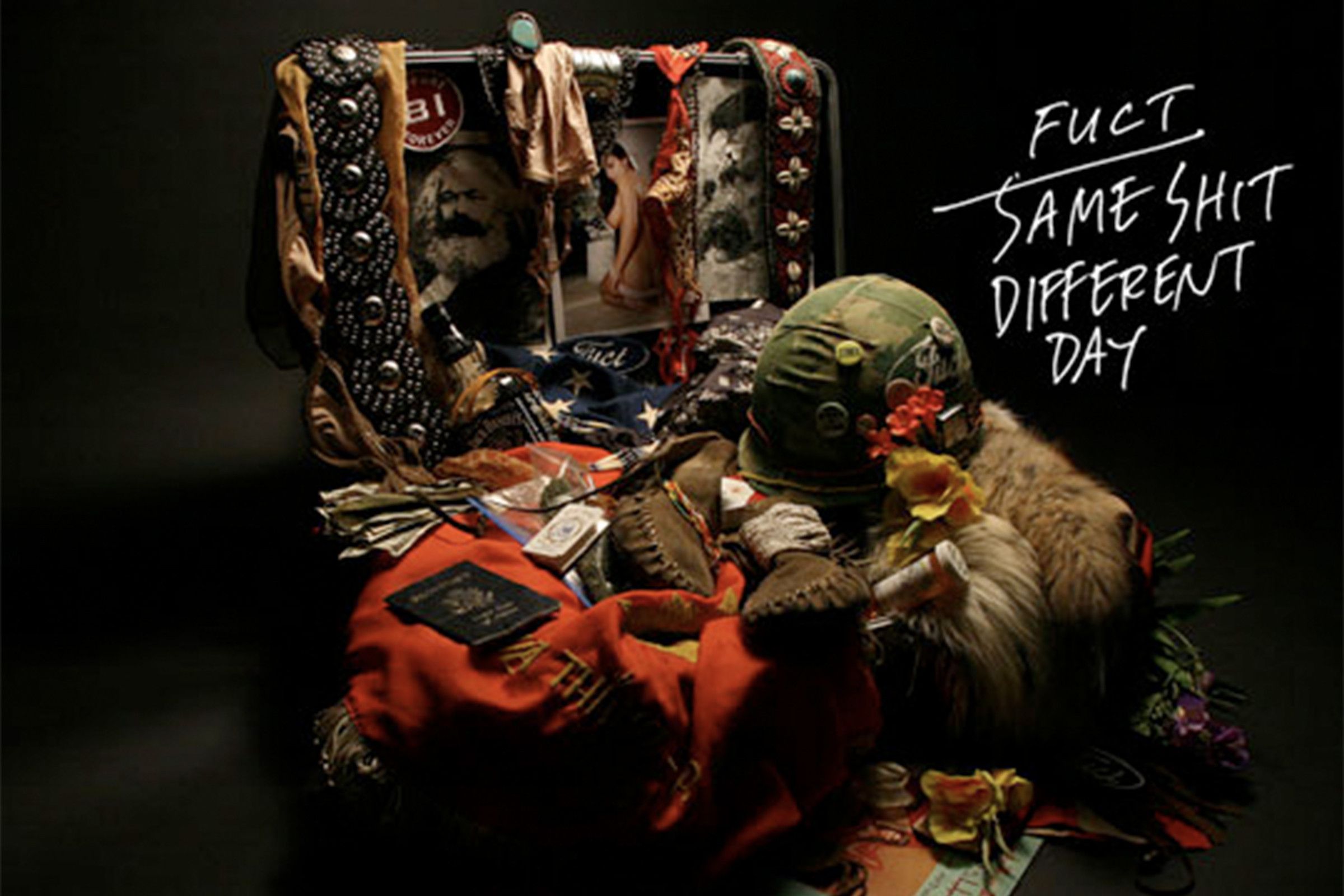 Despite taking a hiatus in the mid-'00s—something Brunetti hasn't shied away from doing when he feels he needs to—the second half of the decade would prove to be seminal in FUCT's evolution. The brand pierced a little further into the mainstream as classic streetwear was at its nadir and, as an OG brand, FUCT was heavily covered by the likes of Complex, Hypebeast, and Highsnobiety in the late-'00s.
In retrospect, the most important development for FUCT during this period was the launch of FUCT S.S.D.D. (Same Shit Different Day) in 2008. FUCT had become popular in Japan—angst, it seems, was as emblematic of Americana as raw denim. As a result, Brunetti's brand had been offering Japanese exclusives for a few seasons, a small collection of goods including flannels, accessories, and even some collaborations that segmented FUCT's presence in the Japanese market from its existence in America. It's from there that FUCT SSDD emerged.
Per the brand's official statement, FUCT SSDD was originally slated to be "manufactured and sold exclusively in Japan," while "the collection [was to be] inspired by classic, traditionally American style […] and echo the societal landscape, issues, and tensions in the United States during the 1960s and '70s such as the rise and fall of the hippie movement, drug use and communal lifestyle."
Despite being rife with cut-and-sewn pieces and garments made to look like they were pulled from a closet in the '70s and '80s, SSDD has been no stranger to subversive graphics, itself. Perhaps the most infamous example was the FUCT SSDD Whiring Zip Sweater from Fall 2014, which saw Brunetti once again use swastikas as graphical elements, this time on a knit, shawl neck cardigan.
On the whole, though, SSDD came to represent a more polished version of the graphically-driven FUCT, with the diffusion line's jackets becoming particularly popular. Gradually, SSDD was offered to top-tier retailers outside of Japan and came to live alongside brands like Neighborhood, WTAPS and Wacko Maria. SSDD collections have offered a more refined take on the FUCT DNA that Brunetti created and have served a more mature clientele.
Both FUCT and SSDD have built up an impressive archive of collaborations that spans from Neighborhood to Wes Lang for the Japanese diffusion line, and from Ebbets Field Flannels to XLarge for the original label. In the brand's earlier days, collaborations with the likes of XLarge was a way for Brunetti to work with like-minded people. Later collaborations, like the Ebbets Field Flannels "Friends U Can't Trust" baseball jerseys helped push FUCT a little further into the mainstream because of their relative accessibility. Combined with some of FUCT's edgy graphics and more refined garments from SSDD, it makes for one of the deepest archives among street fashion brands.
But, despite all of FUCT's success—commercially and culturally—Brunetti has been no stranger to controversy. Asked for his thoughts on "streetwear", Brunetti bluntly told Goodhood that "It's like fuc boi clothing, you know?" For Brunetti this hardline response directly ties into the fact that the formerly subversive subculture went mainstream. The death knell, according to him, was when celebrities and rappers started wearing it—something FUCT wasn't immune to. As a result, brands and designers started to "actually care about what the consumer thinks of them, what the banker who gives the line of credit will think of them, and so on." That begat "safe" streetwear in Brunetti's eyes, which poisoned the movement he had helped spawn alongside the likes of Shawn Stussy, Rick Klotz and James Jebbia.
Brunetti's most notable confrontation, though, has been his longstanding hatred of A Bathing Ape founder Nigo. Hatred may seem hyperbolic, but he has called the Japanese designer a "fucking joke" and told Addicteed that there wasn't "enough space here for me to give you my opinion on [the Bathing Ape] disaster." At issue for Brunetti is that FUCT used Planet of the Apes back in the '90s and released many collaborations with XLarge revolving around the primate—not to mention that the entire XLarge brand imagery involves an ape. Brunetti claimed Nigo "mislead people [into] buying into his scam [and] he actually believes he came up with it [the use of the ape] on his own." Alas, nobody said Brunetti was one to be diplomatic—like FUCT, he is brash and unapologetic.
But it's precisely that deamner that has kept FUCT alive and well heading on three decades in the game. Until a few months ago, you would have been wise to put money on the brand petering out slowly. When asked by Autre in 2016 where he saw FUCT in 20 years, he simply mused, "done, hopefully." He even characterized FUCT as his "biggest regret" when speaking to Paper. The non-SSDD arm of the brand has practically ground to a halt. But just when Brunetti and FUCT started to fade to the realm of street culture relics, they seemingly changed course by calling out Virgil Abloh and giving an exhaustive interview to Goodhood, not to mention the fact that Brunetti never wavered in his commitment to trademarking FUCT—something he only achieved in 2017.
FUCT was always going to be perpetually engrained in street culture and streetwear's collective identity. The question was if Brunetti would be a willing participant in the brand's continued existence. The answer to that appears to be begrudging yes. If anything, it will be with the sole aim of keeping everybody else in check and reminding us that it's okay to challenge the status quo and make people feel uncomfortable. That's the way it's always been for FUCT.