The History of BAPE
The son of a nurse and billboard maker, Tomaki Nagao's parents often worked a lot, leaving him alone with his toys as a child, where he developed a fondness for pop culture franchises like Star Wars. As a teenage clothing nerd going to high school in Maebashi, the capital of Japan's mountainous Gunma prefecture, he idolized Hiroshi Fujiwara. As outlined in W. David Marx's Ametora, Nagao read Fujiwara's "Last Orgy" column in Japanese mag Takarajima like the Bible. Fujiwara's column espoused the distinct subcultural mix—hip-hop, fashion, punk, skate—that embodied the same wave of Shawn Stussy's seminal International Stüssy Tribe, of which Fujiwara was a member. That granted him access to a burgeoning scene of global cool guys, linking up with legit influencers like Michael Koppleman and Fraser Cooke in London, as well as cultural vanguards Malcolm McLaren and Vivienne Westwood. In fact, it was McLaren who put Fujiwara off of his obsession with punk and new wave, and guided him towards New York's fledgling hip-hop scene.
The eclectic cultural mix presented in "Last Orgy" blew Nagao's post-pubescent mind, and inspired him to move to Tokyo to enroll at the prestigious Bunka Fashion College—where he didn't study design, but rather a course meant for aspiring magazine editors. Then known as "Tomo-kun" to his friends, Nagao also happened to meet future UNDERCOVER designer Jun "Jonio" Takahashi at school. Through a chance meeting at a club, a merchandiser for punk shop A Store Robot noticed the striking resemblance between Nagao and his idol, Hiroshi Fujiwara. So he nicknamed him "Fujiwara Hiroshi NIGO," translated as "Fujiwara Hiroshi Number Two." Obviously, the new moniker stuck.
Eventually, NIGO met Hiroshi Fujiwara Number One, and began to climb the ranks in the Japanese scene, starting off as his personal assistant, DJing parties, and co-authoring a column in Popeye magazine with Takahashi, named "Last Orgy 2" in homage to his mentor.
In 1990, Fujiwara and graphic artist Shinichiro "Sk8thing" Nakaramura had an idea to start their own label of graphically-informed T-shirts and sportswear staples. Their Goodenough label caught fire fast, due partly to Fujiwara's high level of influence, and also some mentorship from Toru "TORUEYE" Iwai, a retail veteran who had sold plenty of VAN clothes—the defunct Japanese menswear label that made ivy style an inadvertently rebellious uniform in the '60s.
By April 1993, Fujiwara wanted to leverage Goodenough's success into a proper store, tapping NIGO and Takahashi to open Nowhere, a small, log-cabin like boutique located in a then-quiet part of Harajuku, referred to as "Ura-Harajuku." While the neighborhood's main thoroughfares had long been turned into a veritable strip mall, this back area remained relatively tranquil. Nowhere was split into two sections: Takahashi peddled his punk-influenced UNDERCOVER on one side, and NIGO offered imported streetwear selects on the other. While UNDERCOVER gained instant exposure and caught on with customers, NIGO's side of the cozy shop underperformed.
NIGO realized his success hinged on creating his own label, and Sk8thing came up with the concept after binge-watching all five of the original Planet of the Apes films. So was borne the iconic Ape Head graphic, while the slogan "A Bathing Ape in Lukewarm Water" was lifted from underground comic artist Takashi Nemoto's Monster Men Bureiko Lullaby, in which he describes an old man bathing as "like an ape in a bath of lukewarm water" which was a self-aware reference to the overindulgences of their generation. Truncating the name to "A Bathing Ape," it eventually became known colloquially as the simpler "BAPE."
At first BAPE had more in common with the fabled yeti than the common primate it er—apes its name from. The goods were extremely limited, and extremely pricey. There's a popular shot of Biggie by Shawn Mortensen wearing a BAPE parka circa 1994, and word on the street is that it's actually Mortensen's own jacket draped over the rap legend. NIGO partnered up with indie Japanese hip-hop acts like Scha Dara Parr and the appropriately named Cornelius, who lifted his nom de mic off the very same Planet of the Apes marathon that birthed the brand. In addition to kicking off BAPE's tradition of making tour merch, Cornelius was even part of the 1999 World Wide BAPE Heads show, which had its own exclusive set of merchandise.
The clothes had a playful utilitarian appeal. Drawing heavily from military motifs, Sk8thing designed A Bathing Ape's popular camouflages, infusing the ape head into different types of disruptive pattern materials. Moving into the 2000s, the camo patterns got brighter, incorporating bright pastels and other colors that defeated the original subterfuge intent of the print. The same A-2 Warthog fighter jet images that inspired the Jordan V became the basis of BAPE's full-zip shark hoodie, which had a zipper that went past the neck and to the hood, concealing the wearer's face entirely. It wasn't the most practical thing in the world, but hey, it looked cool.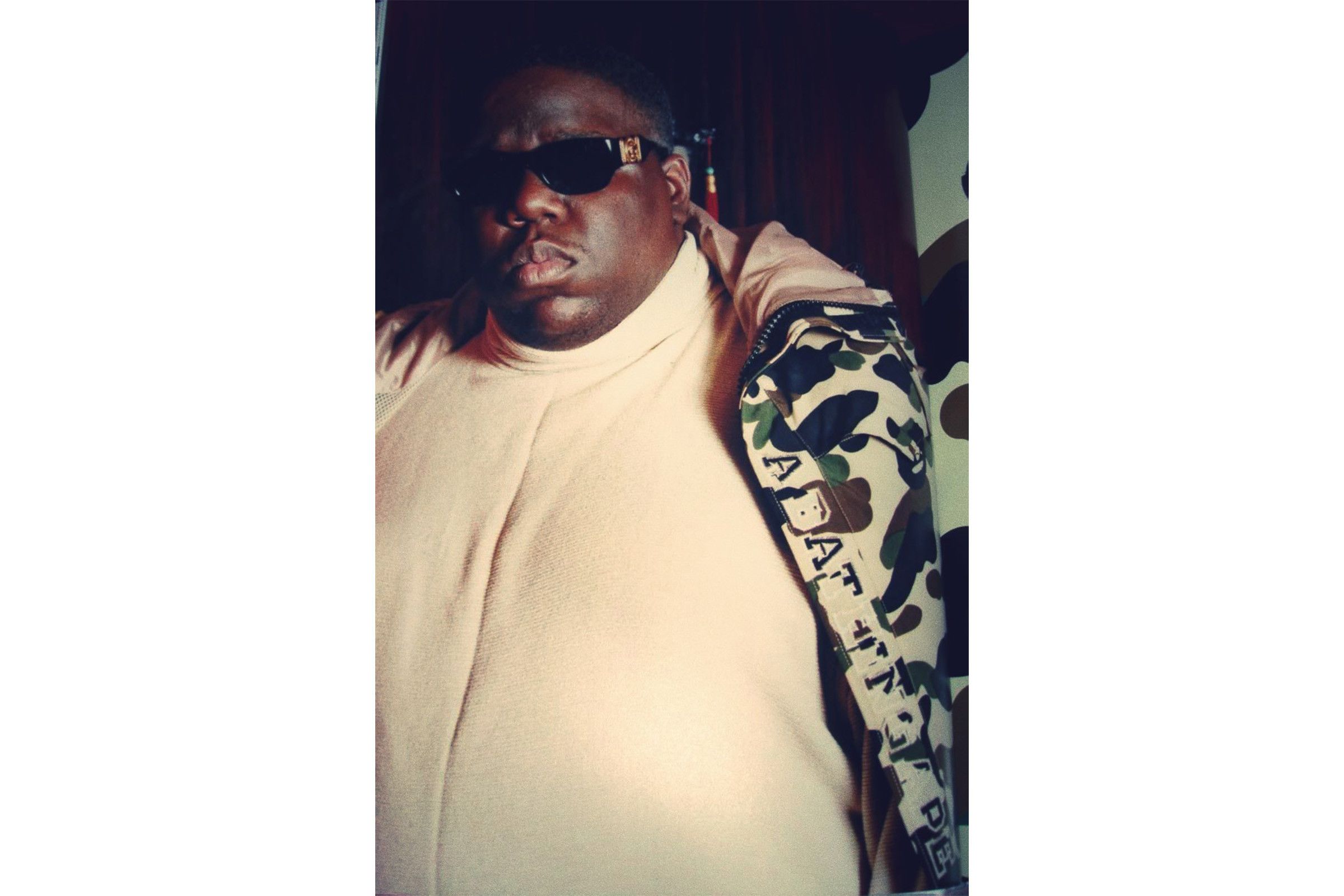 BAPE's international exposure began proper when NIGO met legendary London music legend James Lavelle, who connected him with artists like DJ Shadow and NYC graffiti GOATs like Futura 2000 and Stash. The latter owned NYC street shop Recon, who was one of BAPE's early American retailers, and sold through whatever limited stock they got their hands on as soon as it landed in the store.
By 1999, Marx writes that BAPE's revenues were in the ballpark of 2 billion Yen, with six Busy Work Shops in Japan alone. Later that year, BAPE opened its first store in Hong Kong, and its growing popularity signaled to NIGO that his "exclusive" brand had a massive appeal. So instead of doing like his predecessors and other streetwear stalwarts and cutting down stockists and lowering production to retain an air of scarcity, he did the opposite. In the equivalent of your favorite indie band realizing they had the potential to sell out stadium shows, NIGO signed major label deals with brands like Pepsi, encasing soda cans with BAPE's trademark camouflage, and rapidly expanding his business.
BAPE introduced its iconic Bapesta shoe in 2002, ushering in a new era of pastel-colored, patent leather upper sneakers. As an homage to the toys of his youth, some of them even came on blister packs, like action figures. Since it's much easier to file for technology or trademark infringement than design infringement, BAPE's homages to silhouettes like the Air Force 1, Air Max 90, New Balance 574, and adidas Superstar may be safe from pending lawsuits.
The brand's success manifested in NIGO's purchase of a five-story house with a glass-walled garage to show off his car collection as if they were Hot Wheels. BAPE expanded to London in 2003, where NIGO tapped lawyer Toby Feltwell to help him grow even further. Through mutual friend Jacob the Jeweler, NIGO met Pharrell Williams. At a time when BAPE was falling out of favor in Japan, Pharrell gave the brand the boost it needed to be relevant again.
The mid-2000s were BAPE's salad days. In true Pharrell fashion, he used his celebrity platform as a way to put NIGO on, a strategy that worked all too well. Lil Wayne was often spotted in the gear. NIGO appeared in Pharrell's video for "Frontin'", and Souja Boy based an entire song off 2007's Souljaboytellem.com on getting some BAPEs. BAPE's influence culminated in 2008's World Wide Bape Heads Show, which featured performances from N.E.R.D. and some guy named Kanye West. Long before his design dreams were a reality, Virgil Abloh gave the event a glowing review on cult website The Brilliance!, where he toasted NIGO over a dinner at Nobu.
In return, NIGO, Sk8thing, and Toby Feltwell were instrumental in helping Pharrell get his Billionaire Boys Club and ICECREAM labels off the ground. Sk8thing's all-over prints featuring buttery waffle patterns, blunts, and beepers on full-zip hoodies perpetuated the trend, while BBC's astronaut logo, with its retro appeal and bold graphic lines, clearly speaks the same design language as BAPE's graphic sensibilities.
BAPE's appeal managed to tickle the fancy of even the most esoteric celebrities, Pharrell notwithstanding. Take for example guys like John Mayer and Robin Williams(!). The late great comedian frequented California shops like San Francisco's Initiative and FTC to get his fix of parkas, coaches jackets, and all-over BAPE 1st camo shirts.
BAPE landed in New York in 2004. Before he blew up, Kid Cudi once worked at the BAPE store with friend of Grailed, Shan Poo, the R&B artist Boyslashfriend. Cudi started on Poo's last day at the shop, and as he was cleaning out his locker a conversation occurred that we still give him shit for. Poo introduced himself and asked for the new guy's name, and the Cleveland rapper simply replied: "Cudi."
Poo jokingly asked him, "What are you a rapper or something?" to which he answered with a simple: "Yeah." Incensed, Poo shot back: "Good luck with that."
At its peak, BAPE's empire spanned a global set of stores, a cafe, an art gallery, and dedicated stores for other lines like cartoonish Babymilo gear, a women's couture line Bapy, and a childrenswear store. But by 2009, those fortunes were fading—fast. NIGO stepped down as the CEO. The Wall Street Journal reported that by 2010, BAPE lost 110 million yen. So in a move that went down in streetwear history, Hong Kong-based I.T. Group bought a 90% stake in the company for a cool 230 million yen—or roughly $2.8 million. The number seems like a paltry sum, but Marx points out in his book that even though BAPE's parent company Nowhere had revenues of about $62.5 million, their debts were at Kanye West levels of $52.79 million, which I.T. Group assumed as part of the deal.
During his last days at the brand he created, NIGO was more focused on other pet projects. He created a fledgling label called Human Made with "futuristic teenagers" in mind with a more grown-up, vintage-inspired graphic language, and Mr. Bathing Ape, a proper menswear line that mixed Savile Row British tailoring traditions with BAPE's trademark graphics. It made its online debut in 2011 on Mr Porter. He also has an ongoing collaboration with adidas and serves as the creative director of Uniqlo's t-shirt program. You can thank him for the retailer's recent KAWS collab. Other BAPE alumns went onto other projects: Toby Feltwell and Sk8thing are the current duo behind cult label Cav Empt, which draws its influences from military, workwear, and the digital dystopianism of Philip K. Dick.
But BAPE remains alive and kicking under its new corporate masters, and the irony isn't lost on true BAPE heads that the guy currently terrorizing Supreme fans in favor of BAPE is essentially touting a soulless shell of itself over a genuinely independent brand that never lost its focus or got too big for its britches. Best case scenario, BAPE will follow in the footsteps of Stussy—appropriate considering how closely the brands are linked—and find a balance between leveraging its underground heritage and the fact that it has become the very type of commercial brand it was founded against.