Montreal's Finest: A History of Dime
Montreal's Finest: A History of Dime
The bulk of the discussion when it comes to fashion and streetwear tends to focus on brands, stores and events emerging from the world's "key cities"—the likes of New York, Los Angeles, Paris, London, Tokyo and Milan. But, nestled about 400 miles north of New York, one skate brand has become the object of adulation from observers outside the skate scene. Dime has become a streetwear staple, often compared to its New York and London-based brethren Supreme and Palace, while gaining fans (and square footage) in the space where fashion and skating intersect. The Montreal-based brand has gone from a loose collective of skaters known for their "humor-first, skating-second" clips to an internationally-recognizable brand stocked by the likes of Dover Street Market and tapped by DC Shoes to help re-energize a dying brand.
It feels dishonest to refer to Dime as a skate brand, not only because the brand has been adopted outside of skateboarding, but because Dime is more than just a "brand." Dime's true beginnings pre-date the original Dimestore Video, circa 2009—rather, short clips began to surface online around 2005. The original crew consisted of skaters who had known each other since their early teens and had grown up skating various spots together; the skate community in Montreal is tight-knit, something helped by the fact that Vans, whose Canadian offices are based in Montreal, is extremely active in the local scene. Antoine Asselin, Phil Lavoie, Bob Lasalle, Hugo Balek, Charles Rivard, Eric Riedl and Alexis Lacroix made up the original Dime Crew and all featured in The Dimestore Video, along with various clips that made their way to Instagram and skate sites.
Over the next half decade, culminating with The Dime Store Video, the Dime Crew honed its visual style, garnering attention for its '90s-style skating and equally nostalgic aesthetic. The clips, and The Dime Store Video itself, were grainy, often alternating between aspect ratios and intercut with segments that focused on anything but skating. Whether intentional or not, Lavoie, the man behind the camera, steered Dime in a direction that made it refreshing and helped shape its enduring appeal; the crew never took itself seriously, its videos were as much about fucking around and documenting the weird stuff the guys would see (even using bums as skate props) as they were about landing technical tricks.
Follow Marc on Instagram here.
Even the original opening sequence grew out of a joke, rather than a serious attempt to position Dime as a "brand." Anybody who has watched The Dime Store Video has surely asked themselves about the Godzilla-esque girl who appears around the 45 second mark and throws up horns. Lavoie and Asselin explained to Quartersnacks that "she was a random 12 year old girl throwing the horns, and it made no sense for [Dime] to use it; but the photo was a perfect representation that [they weren't] sure what [they were] doing, so [they] got stoked on it [… and] she became [Dime's] mascot." Eventually, though, the guys had to ditch their talisman when she found out she was being used in their videos and threatened legal action.
That nonchalance—and humor—is what set Dime apart, both from other skate crews, but also from the rest of Canada in the eyes of skate purists south of the border. Americans are typically suspicious of Canadian skateboarders, who are seemingly trying to make up for the fact that they aren't American by exuding an overt false-confidence and unnecessary exuberance. Chris Nieratko, an American skate journalist, surmised that "Canadian skaters have been trying to fit in with their American counterparts while inadvertently polluting the skateboard world with vanilla, suburban pseudo-gangsters in ghetto gowns." But, he argued, what makes Dime different, is that it harbors no ambitions of making it in America, or even being accepted by anybody outside of their tight-knit crew.
It's that inward-looking mentality that led Dime to produce its first 100 T-shirts at a local printshop for its homies. A few years later, a second batch of T-shirts appeared—the "Dimestore Crew" moniker replaced simply with "Dime." Lavoie explained that the guys "were always saying Dime as short for Dimestore. People thought [it was] a skate shop when [they] were using that name," and, while they were indifferent to that criticism at first, "when the time came to sell it to stores, it would've been confusing for them to sell product that seems like it's from another store." The stores that Lavoie are referring to were a handful of local retailers, ranging from skate shops to streetwear boutiques, that served as Dime's stockists in Montreal, with the brand's own web store serving their international clientele.
One of the influential figures in the evolution of Dime since 2011 has been Vince Tsang, who helped transform Dime into the graphical stalwart it is today and opened the door for it to be carried in premium doors worldwide. Before joining Dime in 2011, Tsang ran a hugely popular (now defunct) blog, On and Beyond, cut his retail teeth at Montreal's Off The Hook, and contributed photography for the likes of Nike, all while pursuing passion projects like his "I Wish They Made This For Girls" photo series. Tsang was originally brought on to handle Dime's marketing efforts and webshop, but his role quickly grew into overseeing the brand's art direction. While the Dime crew recognizes that its designs are a collective effort, Tsang is charged with fine-tuning each collection and guiding Dime's aesthetic as far as apparel is concerned—something which saw him named one as of Hypebeast's "100 most influential people in streetwear" back in 2016.
Following Tsang's addition to the team in 2011, Dime fielded a well-balanced team—Asselin was well-grounded and business savvy, Lavoie entrenched Dime's not-too-serious branding through new clips and videos, while Tsang and Charles Rivard worked on graphics that brought the crew's laid-back attitude to clothing. By 2013, Dime was making the rounds on the internet, attracting attention from the likes of Complex and Four-Pins. A collaboration with Montreal-based tastemaker JJJJound, on a tongue-in-cheek "Dime Ruined My Life" T-shirt, solidified the brand's standing and even led Four-Pins to tap it as the heir-apparent to Palace and Supreme.
While that designation is nothing to scoff at, Dime is entirely different from both of those brands. Back in 2013, in an interview with Montreal's highly-respected CULT MTL, Tsang argued that, while the crew had "the utmost respect for [the two brands], [it] believed [Dime] was different and [had] a spot on the map," independent of anybody else. That assessment rings true as, even four years later, Dime has continued to progress at a relatively natural rate—something which Complex identified as a strong trait back in 2013—and has limited their collections, not out of a desire to create droughts on the market, but to be able to grow into its success and make the learning curve more manageable. The graphics that have been born from the slow, deliberate trickle of collections and drops include an ode to the Nike Air More Uptempo, references to Quebecois culture, countless inside jokes and references to the skate culture of the '90s and '00s—things ranging from a Circa and Osiris logo mashup to Joe Valdez iconography.
Rather than dilute their magic to produce more product, Lavoie, Asselin, Tsang, and the rest of the Dime Crew have continued to place having fun and being skaters first, devoting time to skating Los Angeles, Barcelona, Paris and their native Montreal. It's a process that can be frustrating at times for consumers—clips posted to Instagram often feature pieces and graphics that won't be available for months—but that reminds them that Dime is here to have fun; Dime is run by skaters, after all. And, while the brand is carried at skate shops around the world, they have also found their fans in the fashion world. From Supreme to Dover Street Market, and from Milan's Slam Jam to London's OG skate shop, Slam City Skates, Dime has become one of those brands that can seemingly sit next to both grip tape and designer-level fashion.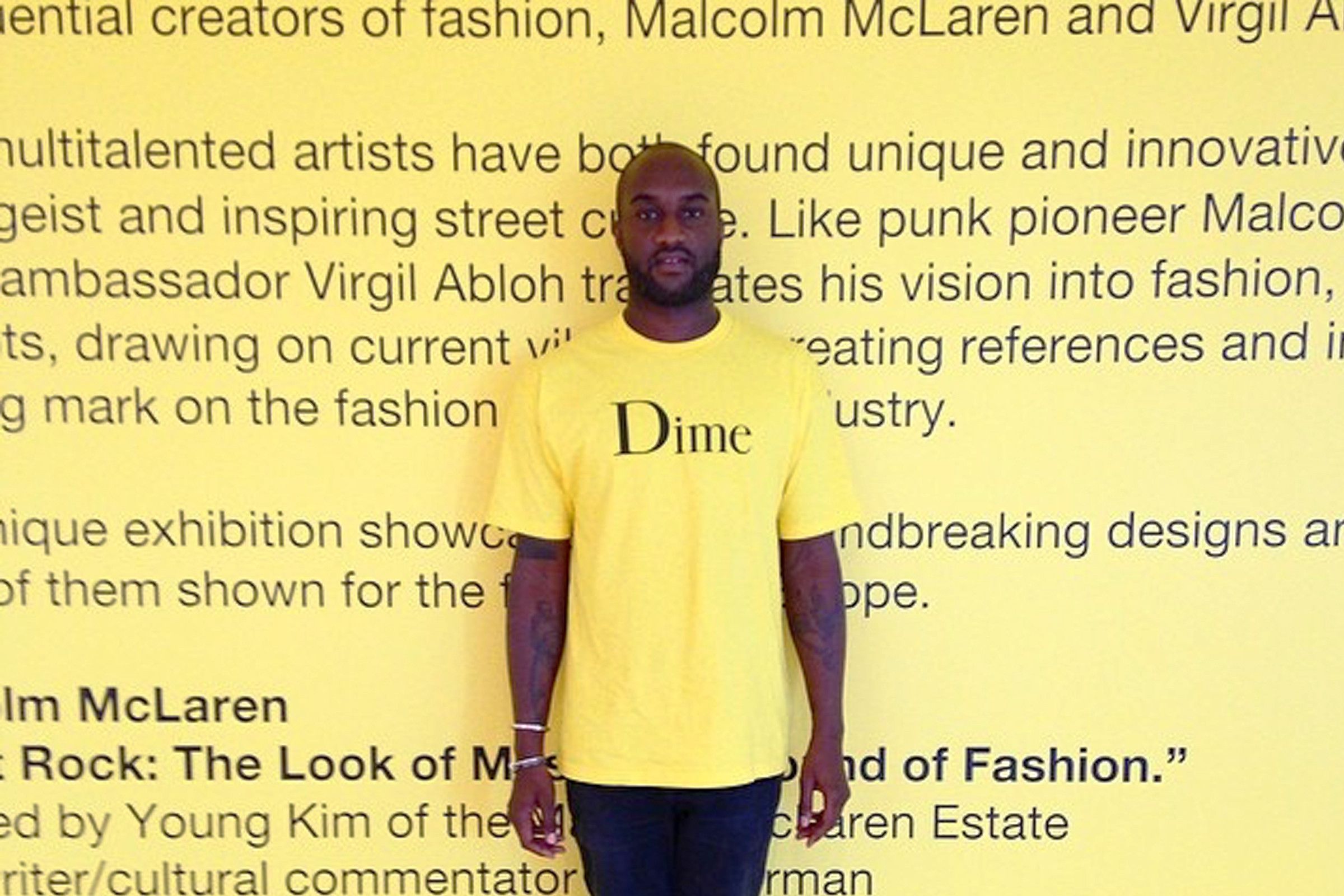 Gradually, the Dior-inspired logo, and even some other pieces, began popping up on various celebrities—an unmistakable sign that a skate brand had achieved crossover success (see: Supreme, Palace). First, there was Virgil Abloh, who posed in a yellow logo tee in 2014 and posted it to his Instagram with the caption "google 'yellow dime tee'". Then, a photo surfaced of Kaytranada in a Dime hoodie, posing next to Rick Rubin; even Johnny Depp's daughter has been spotted wearing a Dime cap. The weirdest, though, was seeing a Quebec-based singer doing an interview on national TV wearing a Dime hat "two days after [they] made a run of like 12 hats [and] sold them to this little boutique, and somehow she got one."
The fashion side seems to take care of itself, so long as Dime continues to be easy-going and funny—something that shouldn't be a problem for as long as Dime decides to put on its now-infamous, Dime Glory Challenge. Originally launched in 2015, the Glory Challenge is something that was thought up with the skate community in mind, but the event's many hijinx have made waves in the mainstream. Explaining the Glory Challenge to someone who hasn't lived or watched it is difficult—it's a non-competition skate competition, with at least "one million Canadian dollars" on the line, speed glasses, insane build outs, ridiculous challenges and even more ridiculous obsessions with Scientology and Joe Valdez. In short: it is the physical manifestation of the Dime philosophy; nothing is really meant to be taken seriously and the result is spectacular. It's not unlike professional wrestling: the judging may be rigged and the integrity of the "competition" compromised, but the entertainment value is undeniable.
Over the last three years, the Glory Challenge has been used as the launchpad for Dime's collaborative projects. The 2015 and 2016 editions were put on in partnership with Vans, with 2015 marking the release of the "Banana Stomper" Slip-On Pro, while the 2016 event was used as a prelude to its Old Skool Pro and Fairlane releases. While Dime had always been close with Vans, the collaborations and the Glory Challenge solidified the partnership and elevated Dime to the level of a serious player in the skate and streetwear realm.
In a move that could have easily backfired, Dime ditched Vans for the 2017 Glory Challenge, and teamed up with DC Shoes, an icon of the '90s and new millenium skate scene that has lost its way in recent years. On the surface, the move screamed of a small brand selling out to a corporation desperate to gain some semblance of cool. Dime's approach, however, didn't change: the festivities were outlandish—filled with a helicoptered "entrance," state of the art speed shades, 50 skaters from around the world and a massive crowd there to take it all in—naturally.
Shortly following the Glory Challenge, Dime and DC revealed multiple colorways of the iconic Legacy I that were set to release at the beginning of November. To those unfamiliar with Dime's meta-referential style, the choice was puzzling—but for Dime's fans who lived through DC's heydays in the '90s, it was a hit. The Legacy I hails from 1998, and both the shoe's shape and the colourway chosen for the Dime collaboration—black, grey and neon green—are a nod to the iconic Nike Air Max 95. From the silhouette's outset, [it was a skate shoe that was designed to play with its streetwear counterparts])http://www.complex.com/sneakers/20-things-you-didnt-know-about-nike-air-max-95/dc-legacy-sneakers), and Dime's choice of the shoe in 2017 (when chunky shoes are all the rage) is definitely no accident. Sure, part of it may be self-deprecating and nostalgic—mocking the chunky shoes that dominated the skate scene— but it almost feels like a reminder that skateboarding is at the heart of many fashion trends.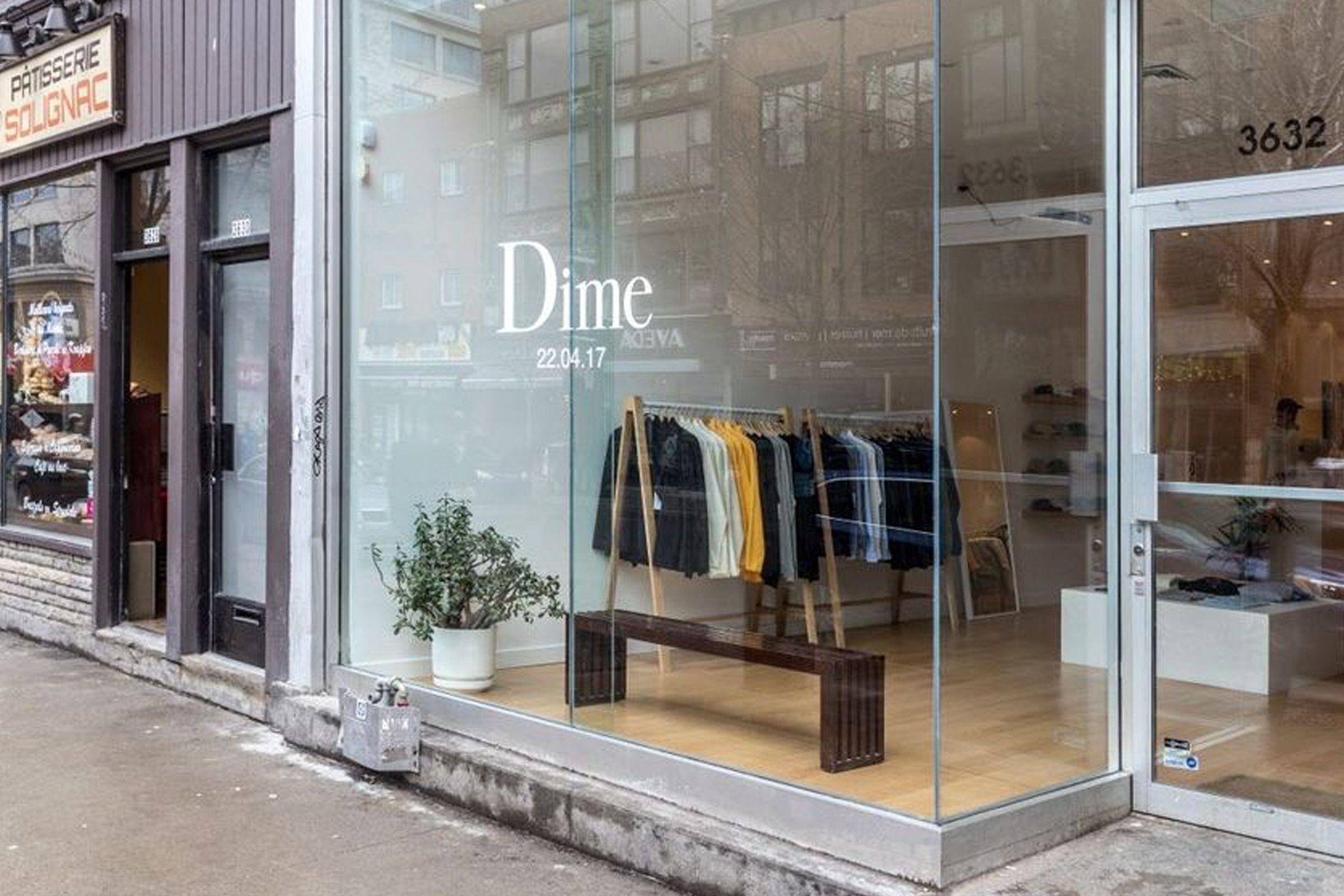 Dime's frequent pop ups have turned into a permanent retail spot in Montreal. The storefront is located on Saint-Laurent Boulevard, a street that used to be home to a number of retailers but is today more widely recognized for the bars and restaurants it houses. That, coupled with the fact that retail is an exceedingly tough industry to survive in at the moment, makes Dime's achievement even more impressive. Beyond its own gear, Dime has begun to stock a host of third-party brands in the store, ranging from adidas to Carhartt W.I.P. This is one of the elements that sets Dime apart from the likes of Palace and Supreme; sure, Supreme stocks third-parties, but, for the most part, those brands are rarely ones that Supreme considers its equals when they bring them in. Dime, on the other hand, has no qualms about bringing in big names to stock its shelves when its own collections run dry. It's an interesting way to counter the droughts that follow each collection's sell out; rather than forcing new product and designs, rely on others to keep your store from being bare.
The permanent storefront, and the brand list stocked within, are signs of Dime's maturation over the last decade or so. The product offering, too, has matured with the years. Starting with simple printed T-shirts and embroidered caps, Dime has graduated to experimenting with different textiles—evidenced by its recent cashmere beanie—and dabbling in the difficult world of cut-and-sew pieces. For a skate brand, making the jump to cut-and-sew is not easy; the landscape is riddled with brands that have poorly executed the transition, putting out boring, low-quality product as a result. Dime has instead focused on a select few pieces—from their school-uniform-esque rugby back in 2014, to the selection of jackets in their most recent collection that included packables, track tops and polar fleece.
Dime has also increasingly distinguished itself on the marketing front in recent years. Its campaigns for collaborations have been bizarre, but effective. The "Banana Stomper" was born because, according to Dime, nobody had ever made a shoe designed for those who have a banana stomping fetish. The Fairlane campaign was reminiscent of an infamous Sunny Delight commercial—it was nostalgic, just like the shoe itself.
The Legacy campaign was perhaps the most "Dime" one yet, axed on the claim that the collaborative release would boost one's "LARPing" abilities; "LARPing" isn't an insanely complex skate trick, but rather the acronym for Live Action Role Playing. The promotional video showed iconic DC Shoes skater Josh Kalis expounding the shoe's LARPing merits. It was the only real marketing surrounding the release, besides the e-commerce shots that made the rounds on Instagram and industry blogs.
The seemingly random nature of the campaign was a reminder that Dime can turn nothing into something. The crew's use of speed shades in their clips made retro sunglasses into a "thing" long before clout glasses were the flavour of the month. Dime's infatuation with Joe Valdez—a skater who ollied San Francisco's infamously massive China Banks gap in the '90s and then faded from skate's collective memory—was weird at first, but over the years he has become a figure idolized not only by the Dime crew, but also by the brand's customers. Even the crew's borderline obsession with Scientology has become a running joke in skate circles and has become a key facet of the Glory Challenge, with Dime marketing the Volcano Challenge as a "chance to get revenge on Xenu."
Dime isn't here to play by anybody else's rules—its members aren't constrained by illusions of grandeur or a strict corporate mentality. Whether it's with the clips, or with its members' collaborative efforts, Dime is just out to have some fun. It can all seem very weird at first, but it serves as a reminder that Dime wields a great deal of influence because they are clearly not taking themselves too seriously. Even from the outside, you can tell that the crew is just a group of friends having a good time together—we're just collectively lucky enough to be let in on their inside jokes. Sure, the designs make the brand recognizable and have contributed to its success, but Dime's philosophy and unique approach are what make Dime so special, and impossible to replicate.