The Sci-Fi Spectale of Jean-Paul Gaultier's Work in "The Fifth Element"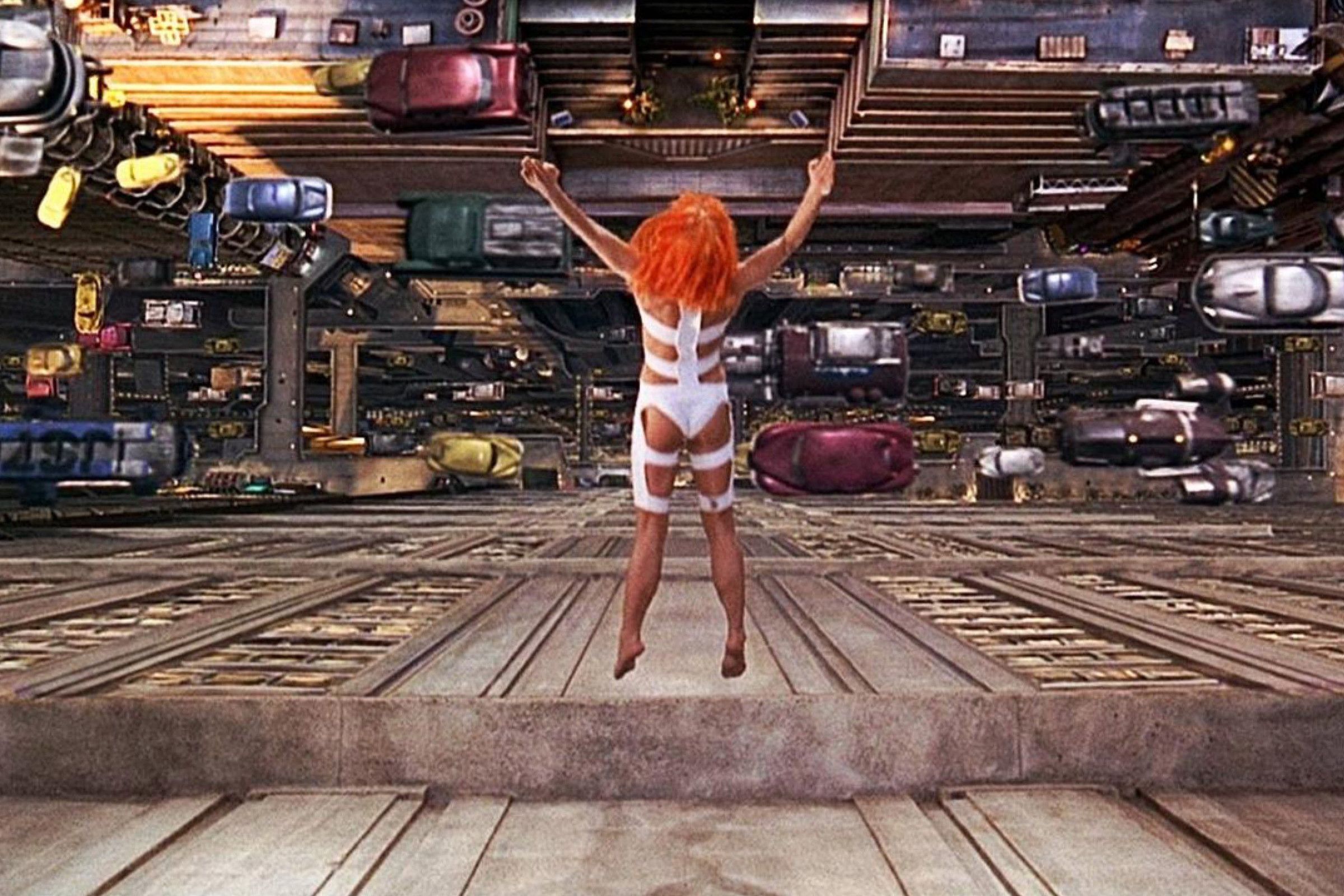 The Sci-Fi Spectale of Jean-Paul Gaultier's Work in "The Fifth Element"
One of the biggest artistic downsides of science fiction franchises is the same thing that executives love about them: consistency. When you go to see a Star Wars, Star Trek, or even a Blade Runner movie, you know roughly what you're going to get (aesthetically speaking). You can probably guess at the broad strokes of the costumes, world building, and even the storytelling. This predictability means that the "new" installments are less likely to have transformative impact on our culture or the genre. It's highly unlikely that the newest installment of a decades old sci-fi property could possibly have the impact of a film like The Fifth Element.
Luc Besson's 1997 film polarized critics and the film was a modest hit by the blockbuster tent pole standards of its day (returning $263 million on a $90 million budget; for context, Mission Impossible doubled that number the year before with a similar cost). 20 years later, the film and its fairly standard sci-fi plot would have been largely forgotten, if not for the film's style—and particularly—the costumes.
Follow Brenden on Twitter here.
Science fiction can often be drab. The wardrobe of futuristic films tends to take a back seat to the design of alien races and sophisticated space ships. Battlestar Galactica, Star Trek and even Star Wars generally traffic in muted or downright dull "retro-futuristic" palettes. In the world building of The Fifth Element, Besson took the opposite approach.
When he thought about bringing a vibrant, outlandish sensibility to the costumes for the film, Besson couldn't imagine anyone but Jean Paul Gaultier for the job. Gaultier's work proved to be one of the most ambitious conceptual achievements in the history of cinematic wardrobe. He created over 1,000 individual costumes for The Fifth Element. For the film, he created an entire fictional style language. From futuristic McDonald's waitstaff to sensual flight attendants in bulbous pillbox hats, even the anonymous roles were dressed to impress.
As Theirry-Maxime Loriot put it at a Montreal Museum of Fine Arts' retrospective on Gaultier's work, "A thousand costumes is like 10 collections but all for one movie. It's an incredible amount of work people don't even know about. For a thousand costumes, he may have even done 5,000 sketches before narrowing it down."
This massive output allowed this one film to have an outsized impact on fashion, and while Gaultier was already incredibly famous, The Fifth Element introduced his work to a whole new audience simultaneously redefining what a "futuristic" aesthetic can be.
Gaultier was already at the height of his influence in the fashion world when The Fifth Element was released. He had been steadily building his career since the '70s. Though magazine profiles continued to refer to him as an enfant terrible because of his rebellious designs, he had been working 20 years when The Fifth Element was released. Designing Madonna's famed cone bustier in 1990 put him on the cultural map, and stars from Courtney Love to Gwyneth Paltrow came calling. When it came to designing a vision of a 23rd century New York, he was the natural choice. Besson told Entertainment Weekly at the time, "I wanted the best and that is Jean-Paul. He knows the color, he knows the flavor of New York."
Gaultier used the opportunity to expand on a look he had already established on the runway. The bondage adjacent look of Madonna's famed bustier is reflected in both Milla Jovovich's white bandage dress and Bruce Willis's orange tank top with a semi-backless look. Costumes in the film show hallmarks of Gaultier's major influences, like bondage, punk rock and lingerie.
Streetwear was always Gaultier's inspiration. Whenever you read a profile of the man, there is invariably some moment where he is meditating on the looks that organically pop up around him. A recent retrospective Gaultier's work was appropriately titled, "The Fashion World of Jean Paul Gaultier: From Sidewalk to Catwalk." It only makes sense then that he would moonlight as a film costume designer. He puts so much care into the background actors because his inspiration comes from the background actors his life.
Working in a theoretical future, Gaultier was also able to push boundaries of gendered and cultural expectations. Early in his career, when his peers were sticking to traditional lily white supermodels, Gaultier's muse was Farida Khelfa, a woman of North African ancestry. When it comes to gender expectations, Gaultier has never been opposed to putting men in revealing clothing, or even corsets, from the very beginning of his career.
While cultural fusion and gender fluidity are common in fashion today, these wasn't the case 20 years ago, especially in blockbuster films. Gaultier took advantage of The Fifth Element's out-of-this-world setting to use Ruby Rhod (played by Chris Tucker)—a leopard clad, Prince-inspired emcee—and Jean Baptiste Emanuel Zorg (played by Gary Oldman)—a villainous mix of Asian, Italian and Southern U.S. aesthetics—to showcase his aesthetic preferences. As Gaultier put it, "I spoke with Luc about what is futuristic, and we decided that there could be elements of today...Everything is possible."
Susan Orlean's description of Gaultier's work and influences from a 2011 New Yorker profile demonstrate why a distant cosmopolitan future might might appeal to Gaultier:
"Gaultier was more interested in what he saw on the street: London kids with sky-high Mohawks and safety-pinned kilts, fetishists with full-body tattoos, African women in Paris who wore men's overcoats on top of traditional dress. His fantasy world was one where ethnicity and gender were comfortably jumbled—a kimono could be spliced onto a double-breasted suit, or a ball gown could be made of camouflage fabric…"
The Fifth Element's impact on the fashion world was instant and obvious. After all, not only had Besson asked a fashion designer to handle his costumes, but his leading lady was a supermodel. A number of 1998 lines werely inspired by the film, including a DKNY campaign hat year. Alexander McQueen's Spring/Summer 1998 collection almost crosses the line into complete homage, staking out a space between the playfulness of The Fifth Element and the sci-fi noir of Blade Runner.
This imprint of The Fifth Element on the fashion world wasn't just a fad the died in the late-'90s. Jeremy Scott often cites Gaultier as an influence in his work at Moschino. After he finished fashion school, Scott begged for a job with him and, even though he didn't get it, his work continues to bear his undeniable influence.
While it's unclear if Scott was tapping Gaultier's work from the film, or simply inspired by the global icon of the "Golden Arches," Moschino's Fall/Winter 2014 collection took The Fifth Element's take on chic McDonald's cashiers and upped the ante.
Even Scott's own Fall/Winter 2018 collection was a conscious and extended homage to Milla Jovovich's looks in the film.
Scott is perhaps the most obvious and self-aware of the film's style disciples, but he is by no means the only one. Pam Hogg's Fall/Winter 2012 collection plays like variations on the Jovovich bondage dress theme. In during the Spring/Summer 2016 season, Hood By Air offered men's and women's clothing with straps and skin that would have been right at home in The Fifth Element's New York.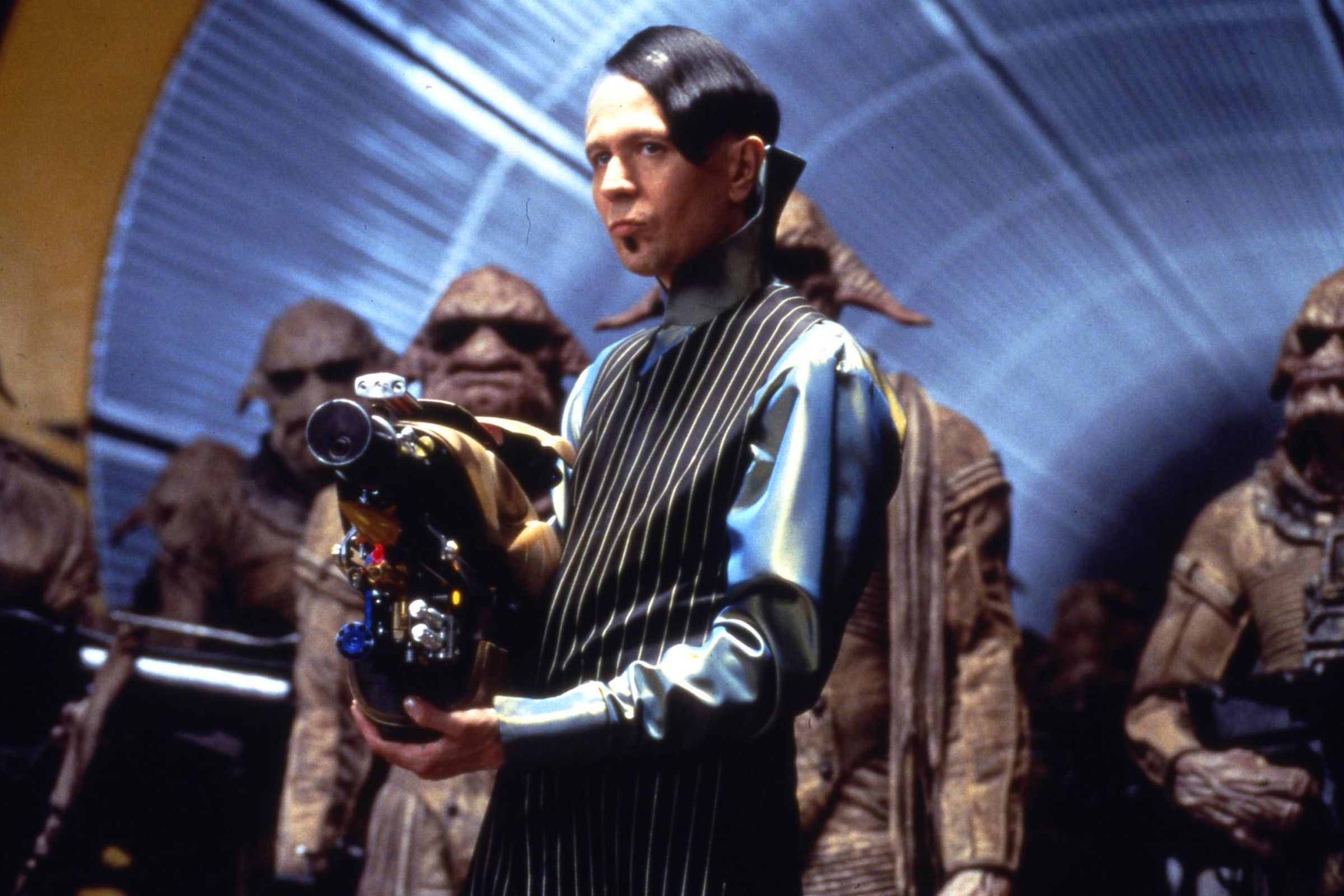 The influence The Fifth Element on fashion goes beyond major runway players too. You only need to go to the mall to see that Gaultier won the streetwear war. You see bondage-dress influence at H&M, genderless clothes at Forever 21 and cultural fusion at Zara. As fashion historian Sara Idacavage said when discussing the film's influence for Fashionista, "[The film's style] is like punk, athleisure and high-end fashion all rolled into one, which is probably why the film can still serve as inspiration for a wide assortment of designers and brands."
Surprisingly, the film's impact on science fiction took a little longer to make itself obvious. Today, Gaultier and Besson's marks are all over the genre. In particular, it is hard to look at The Hunger Games films and not see their influence at work. Dazed's review of the first film remarked, "The Hunger Games is the future cast somewhere between the bombastic camp of Luc Besson's The Fifth Element and the apocalyptic existentialism of Cormac McCarthy's The Road."
A second look at some beloved films of the aughts reveals the true extent of The Fifth Element's influence. Fans have seen parallels in the Star Wars prequels and Avatar (which Besson says, in turn, influenced his 2017 film Valerian and The City of A Thousand Planets). The heroines of Run Lola Run and Alias aesthetically intersect with Milla Jovovich orange hair and sexy utilitarian wardrobe. It's hard to imagine Jovovich's character Leeloo becoming a trope if it wasn't for Gaultier's wardrobe.
In fashion, in film and in culture, the influence that Gaultier and Besson had with The Fifth Element is undeniable. It is also undeniable that we may not see many films like it again. As Disney's various properties strangle the big budget box office, the possibility of sweeping, visionary film designs feel like they're in a blockbuster slump.
You could argue that a smaller film could have such profound influence. And yes, films like Phantom Thread and The Grand Budapest Hotel have made their respective style splashes. But, it's hard to think of a film in recent memory that had the incredible fashion impact of The Fifth Element. It makes sense: $260 million in 1997's dollar means that a lot of people saw the movie. Audience, after all, is the key to impact.
As our cinematic visions of the future become more regimented, cleanly fitting into the confines of previously established intellectual property, the odds of another The Fifth Element launching another Jean-Paul Gaultier into mass culture are increasingly slim. Our fashion and our film are all the poorer for it.