A Closer Look: Blue In Green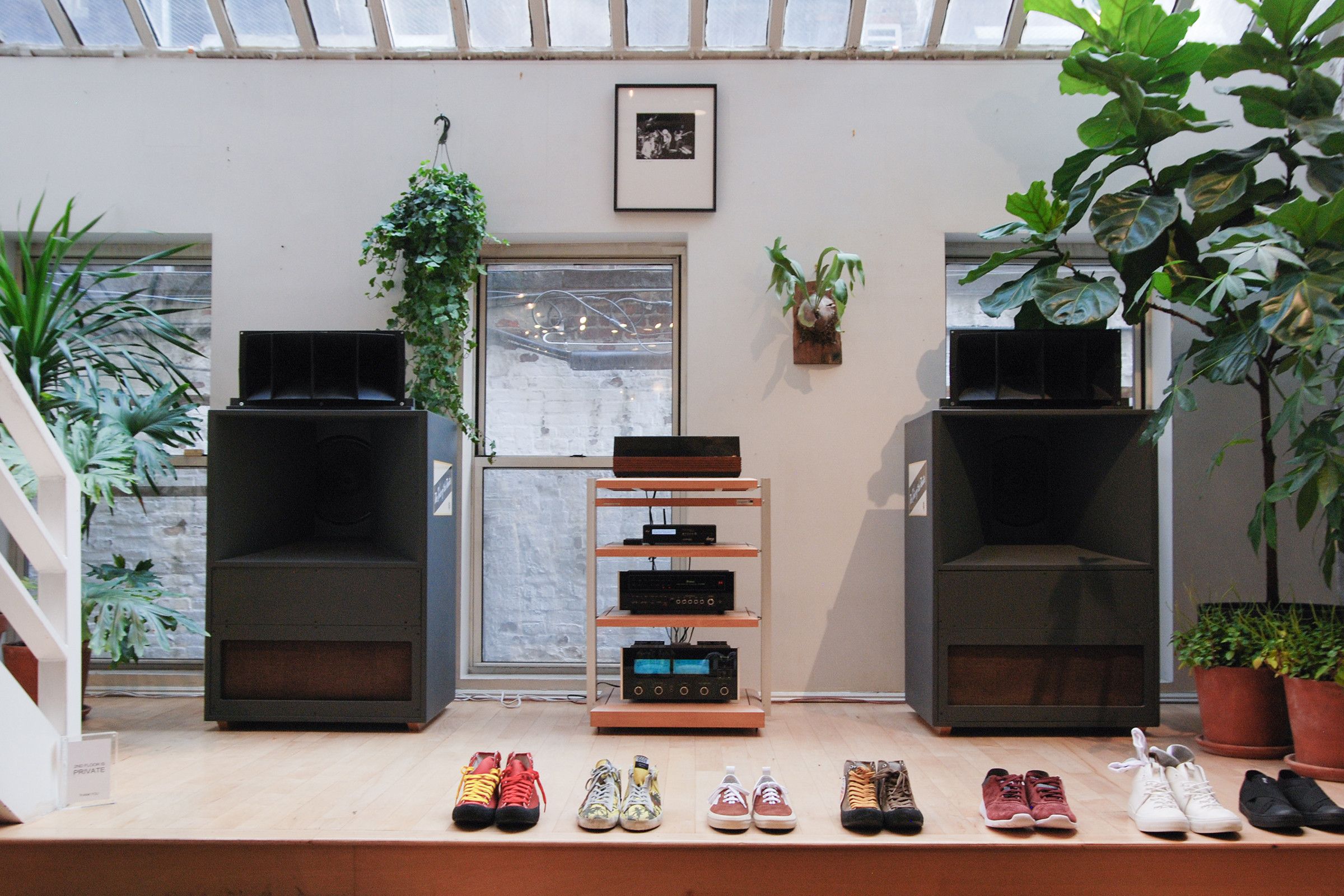 A Closer Look: Blue In Green
Everyone goes through a raw denim phase. It's a feeling everyone experiences when they first get into fashion that encourages them to buy a quality pair of timeless, raw, selvedge jeans that will surely last them for the rest of their life. Some people stick with it and others outgrow the jeans, both physically and stylistically. I fall into the latter camp; although I do have a pair that I like, I'm pretty far removed from the denimheads, the people who discuss the merits of ocean-washing your jeans and rank their favorite reproduction denim brand arcuates. Thus, I entered Blue In Green SoHo (located at 8 Greene St.) with rather mild expectations, expecting a strong showing of jeans and, well, not much more. Boy, was I wrong. Although I had mentally paired BIG with denim-focused stores like Denimio and Blue Owl, BIG's selection is far more expansive.
Photos by Jon Suhr.
Follow Jake on Instagram here.
After getting buzzed into the store, I immediately noticed the massive wall of denim. Jeans from a half-dozen brands or so were stacked up to the ceiling. The selection ranged from popular (Oni, Momotaro) to niche (Somet) and encompassed a wide variety of cuts and weights. The other garms in the front of the store quickly caught my eye: accessories and basics from outdoorsy Japanese brand And Wander, as well as some homeware goods and jewelry. I'm always stoked to see smaller Japanese labels getting picked up by Western stores, and And Wander is currently on the rise, and with good reason. Walking underneath the immense, indigo-dyed American flag, you reach the inner section of the store, with clothes, accessories, shoes, doodads and gear piled up on shelves high enough to necessitate a ladder. Natural light poured in through the windows, illuminating the upstairs offices and layers of clothes.
Although the stuff from Kapital and And Wander in the front of the store piqued my interest, the larger section in the rear really grabbed my attention. There, I found tees from Mountain Research, slacks from Mt. Rainier Design, shirts from Goldwin–the company that owns The North Face Purple Label–and even a pair of rare Mizuno Wave Mocs. Garments were arranged on, above and underneath tables and shelves–there was barely enough room for the scarves and bandanas, tucked into little triangles next to folded tees. Honestly, I hadn't seen such a wealth of Japanese goods in person since I actually lived in Japan. This sensation of being in a well-organized Japanese select shop was only complimented by the tasteful wood tables and floor, high shelves and various flora around the shop. Despite the disparity in certain brands and pieces, I found the selection cohesive. N.Hoolywood's techy jackets faced off against Orslow's slubby denim jackets, but would make sense in the same conceptual wardrobe. BIG's selection recalls the wide-ranging tastes of Japanese fashion magazines like Men's Fudge, Popeye or GO OUT, with a variety of stylistically dissimilar labels that pair well with one another.
Not only was the back room far more open than the snug layout in the front, but it also served as a metaphor for my experience at Blue In Green; though I'd initially assumed that the store would have a narrow, tight selection of jeans and the like, they actually had a wide variety of tempting pieces. I recommended the store to a friend a day later, who dismissed it as a store for "guys who want to dress like cowboys." Sure, a quick look at their webstore proved him wrong, but BIG retains a reputation of being a denim-only store. Perhaps it's due to their (deserved) legacy as one of the primary suppliers of quality denim that Blue In Green is still categorized as a store for denimheads, by denimheads. Looking to get an insider perspective into the store's direction, I struck up a conversation with BIG's approachable sales manager, Ryan.
Dressed in wide khakis and an even wider brimmed hat, Ryan explained that the store quickly cultivated a reputation as a denim mecca, but has since aimed to be inclusive of all forms of Japanese style. The goal is to provide a streamlined denim selection and an expanded wardrobe. The guy shopping at BIG might have only been looking for those perfect timeless jeans because he didn't know it was so satisfying to buy nicer shirts and well-crafted belts. Quality, Ryan continued, doesn't stop at just nice fabrics; the focus is to bring technical details to the layman. You can nerd out about construction all day, but if the clothes aren't fun and easy to wear, most guys don't want anything to do with 'em and why should they? BIG's stock is full of clothes that blend functionality with wearability, a tough but satisfying line to walk.
Ryan mentioned that the similarities between Japanese stores and BIG is anything but incidental–Blue In Green has been intentionally directed to feel like a primer to shopping in Tokyo. Shoppers get a taste of what it's like to browse expressly curated Japanese select stores, both in selection and arrangement. I was partially reminded of the big Japanese stores, like Beams and Journal Standard, but I most clearly recalled Blue Blue Japan's Sakae-based store. Both Blue Blue and BIG have an in-store coffee shop, but the clearest link is that both the stores have a homey, lived-in vibe that makes for comfortable browsing. This is a lifestyle store, no doubt about it. If you're looking for edgy, avant-garde designs or slick European style, you might as well look elsewhere. However, everyone else, from streetwear die-hards to chainstitch obsessives are likely to find something fresh and alluring. The denim is still there (and is it ever!), but the intelligent curation and indefatigably welcoming aura stand as an open invitation to anyone and everyone who's simply looking for solid clothes they can wear for life.