Know Your Clothes: The Aloha Shirt
Know Your Clothes: The Aloha Shirt
For the better part of the past four decades, the aloha shirt was one of the most divisive garments around. Beloved by Tommy Bahama-wearing businessmen who dream of endless vacations while loathed by the fashion elite, the aloha shirt has made a triumphant return over the past fifteen years as high fashion houses, such as Prada, Saint Laurent and Louis Vuitton have embraced "ugly" fashion and channeled the aesthetics of Baz Luhrmann's '90s cult classic Romeo + Juliet, which beautifully mashed up luxury tailoring with the look of American soldiers post-Vietnam. Yet, before its cultural desecration by Tommy Bahama and its recent runway resurrection, the aloha shirt already boasted one of the most complicated, multicultural and even celebrated histories of any existing garment.
While Ellery J. Chun is often credited with inventing the aloha shirt (or at least its proliferation), the garment in fact rose from complex mash of cultures prevalent in 19th and 20th century colonial Hawaii, as documented by Washington State University clothing historian Dr. Linda Bradley. In the early 1800s, the arrival of Westerners and their diseases to Hawaii resulted in the devastation of the local population. The result was an import of Chinese, Portuguese, Japanese, Korean and Filipino laborers between the 1850s and early 1900s as American and Europeans developed plantations under Hawaii's governing oligarchy.
Follow Jacob on Instagram here.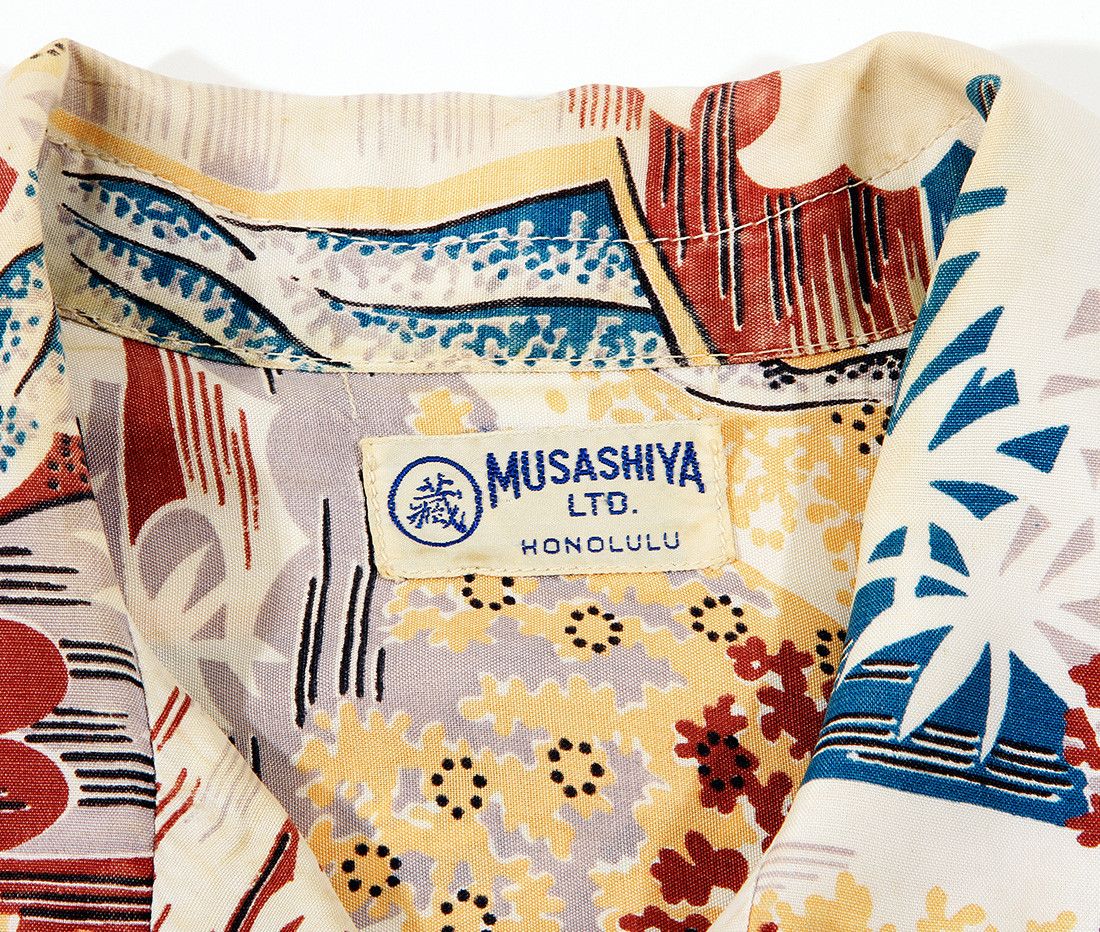 Before American missionaries arrived with their families in the 1820s, Hawaiians wore mainly loincloths, small skirts and mantles created from kapa, a bark cloth made of fibers from the paper mulberry tree. The first known shirts on the islands were the loose, square-cut frock shirts worn by the Westerners, which quickly became a status symbol for Hawaiians and immigrant laborers working on plantations under the eye of American and European overseers. By the 19th century, the frock shirt had been downsized to what most shirts look like today—a square-cut iteration with buttons down the front.
In the 1800s, Hawaiians began using palaka—a heavy, blue and white plaid cotton fabric originally from England or Germany—to make long-sleeved shirts that became popular among workers on sugarcane and pineapple plantations due to their durability. The first known reference to the fabric is from 1873, when Peter Young Kaeo, an inmate of the Kalaupapa leprosy settlement, wrote to his cousin, Queen Emma, that he had visited the settlement store and bought several yards of cotton twill "to make me some frocks palaka." In the early 1900s, the shirt transformed from a shirt jacket into the precursor of the aloha shirt as people began cutting off the sleeves and using lighter weight fabrics. By the 1920s, these shirts were being mass produced for plantation laborers.
By the 1920s, a Westerner middle class developed who sent their children to private schools founded by the American missionaries a century earlier. Supposedly during this time a group of private school guys began going to Chinese tailors to have matching shirts custom made from brightly printed Japanese crepe intended for little girls' kimonos. Inspired by the Baro ng Tagalog—a traditional Filipino shirt worn outside the pants—that they undoubtedly saw on Filipino laborers, the guys decided to wear their shirts untucked. By the 1930s, the Western upper class began wearing brightly printed leisure shirts and, as the trend spread, shirts produced from Hawaiian printed cloth began to replace those made from Japanese crepe.
In the early 1930s, local tailors and dry-goods store owners such as Ellery J. Chun began producing aloha shirts to help maintain their businesses during the Great Depression. Chun imported cloth from the U.S., Japan and Tahiti printed with palm trees, hula girls and pineapples and had his tailor sew three or four dozen at a time. In June 1935, Koichiro Miyamato (also known as Musa-Shiya the shirt-maker), a small tailor in Honolulu, ran the first known newspaper ad for aloha shirts, "Aloha shirts—well tailored, beautiful designs and radiant colors," following with a second ad in July 1936 advertising the shirts specifically to tourists. However, although Miyamoto made shirts for the likes of Shirley Temple and John Barrymore, it was Chun who trademarked the term "aloha shirt" in 1936, the same year two major garment manufacturers, Kamehameha and Branfleet (later renamed Kahala Sportswear), set up factories in order to produce sportswear, including the aloha shirt, in Hawaii.
While Miyamoto was the first to use "aloha shirt" in an ad and Chun the first to trademark the term, it is unclear who actually coined the phrase. Aloha itself is a complex term. The Hawaiian word used for greeting or saying goodbye also boasts a multitude of deeper meanings that revolve around understanding how to rightfully interact with the natural world. The words enduring cultural prevalence and the garment's inherently colloquial nature no doubt led to a strong association between the two.
Most of the shirts produced by the early manufacturers were subtle, featuring small motifs and little color contrast. For example, Branfleet was known for its linen-like durable pineapple tweed fabric. Branfleet then constructed the fabric into solid color long-sleeve shirt jackets with open collars that featured the Royal Hawaiian crest with the motto: "The life of the land is perpetuated in righteousness." In 1937, Max Lewis founded the Royal Hawaiian Manufacturing Company, which featured bolder Hawaiian themed designs and were predominantly sold to tourists. Only after the start of World War II and the cessation of textile imports did manufacturers begin to create uniquely Hawaiian textiles. Fabrics featuring large scale tropical motifs were designed for slipcovers and draperies and business like Wong's Draperies—whose shirts were a phenomenon with locals, not tourists—began using scraps to create some of the earliest tropical print aloha shirts.
But, it wasn't until after World War II that the Hawaiian shirt trend begin to explode. G.I.s helped spur their popularity as they brought them back to the continental U.S. and, in the late '40s and early '50s, faster airplanes made it easier than ever for tourists to visit Hawaii. In 1947, the Hawaii Chamber of Commerce debuted Aloha Week, which encouraged Hawaiian men to switch out their suits and ties for aloha shirts. The chamber officially introduced Aloha Fridays twenty years later, the pre-cursor to casual Fridays across America.
In 1948, former WWII fighter pilot Alfred Shaheen used his family's experience in the textile and tailoring industries to turn production of the aloha shirt into a science, founding a vertically integrated factory and a series of stores that sparked Hawaii's garment industry. While his parents owned a custom dress shop in Honolulu and had previously owned textile mills and clothing stores in New Jersey, Shaheen decided to open his own business, Shaheen's of Honolulu, hiring four seamstresses his mother had trained. He imported silk, rayon and cotton and opened a silk-screen printing plant with equipment he built himself to produce Polynesian- and Asian-inspired fabrics. The fabrics were both sold wholesale and were the basis of his in-house line.
Unlike the early "hash print"—a mishmash of images slapped on using linoleum stamps—shirts produced by Chun, Miyamoto, Kamehameha, Branfleet and numerous other independent tailors, Shaheen took a different approach. He opted for three to five color designs silk-screened in subtle color variations by hand. Shaheen's team at had over 1000 dyes at their disposal and he encouraged them to steep their designs in historical research by consulting rare books, libraries and museums, as well as travel to places such as Tahiti for inspiration. By 1956, demand was so great that Shaheen expanded to a 23,000-square-foot, state-of-the-art factory and by 1959, the year Hawaii was granted statehood, he employed 400 people and grossed over $4 million per year.
In the '60s, another manufacturer, Reyn, introduced the reverse shirt—simply an aloha shirt with the back side of the fabric facing out—that was a hit with locals. Meanwhile, surfers brought aloha shirts and the concept of casual Friday back to Southern California, popularizing both. The '60s also marked the Hawaiian shirt's explosion into pop culture. Elvis Presley wore a Shaheen-designed red aloha shirt in both the 1961 film Blue Hawaii and on the cover of its accompanying soundtrack. Frank Sinatra, Arthur Godfrey and Bing Crosby also wore aloha shirts, as did presidents Harry S. Truman and Dwight D. Eisenhower on the weekend.
In the '70s and '80s, musician Jimmy Buffett and actor Tom Selleck (in his stint as Thomas Magnum on Magnum P.I.) helped further popularize the aloha shirt, which lead to its bastardization in the '90s as companies like Tommy Bahama attempted to monetize Hawaii's reputation as a paradise. In 1993, Generra clothing executive Bob Emfield and his associate Tony Margolis, crafted an island-loving character who lived by the motto "life is one long weekend," shaping their Tommy Bahama brand around him to sell island resort wear all-year round, even adopting vanity sizing to make "customers relax and feel good about themselves."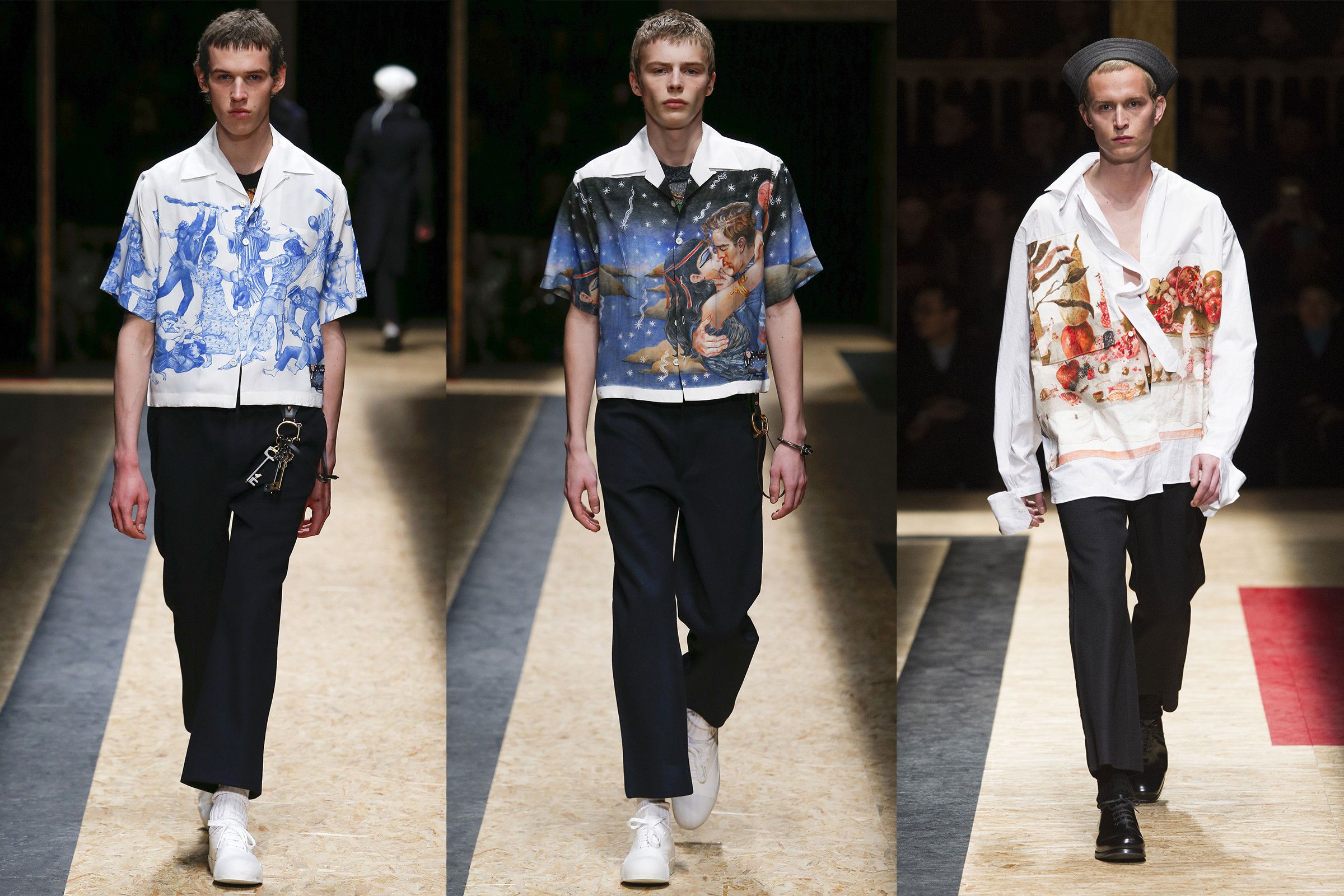 Unfortunately, even Leonardo DiCaprio's Romeo and his Montague clique couldn't undo the damage done by Tommy Bahama and their ilk at the time. Still, today Romeo + Juliet is considered by many as the epicenter of the aloha shirt's fashion revival. For the film, production designer Catherine Martin and costume designer Kym Barrett drew inspiration from '60s and '70s Saint Laurent for the elder Montagues and Capulets, dressed John Leguizamo's Tybalt and crew in D&G, Dolce & Gabbana's now defunct diffusion line, and sourced Romeo's navy blue wedding suit from Prada's then merely years old menswear line. So, it is wholly unsurprising that, as the fashion industry looked towards the '80s and '90s for inspiration over the past decade, the film and the designers featured within played a major role in recontextualizing the aloha shirt.
While literal tribute has been paid to the film, such as Opening Ceremony displaying DiCaprio's iconic shirt from the film in 2016 to celebrate its twentieth anniversary, Prada, Saint Laurent and other luxury labels have made the aloha shirt a high fashion item. Since 2010, Miuccia Prada has made the shirt one of her touchstones, returning to it again and again in both her women's and men's lines, starting with her Spring/Summer 2011 women's ready-to-wear "minimal baroque" collection that paired oversized monkey and banana printed aloha shirts with matching skirts. Prada followed with her Spring/Summer 2012 men's golf-inspired collection that mashed up aloha and western shirts in neon colors and even revisited the aloha shirt's shirt jacket origins. She inevitably returned to the shirt for both her Fall/Winter 2016 women's and men's collections.
While Prada certainly shoulders a bulk of the credit, others credit former Saint Laurent creative director Hedi Slimane with high fashion's love affair with the aloha shirt. After falling in love with the style of his adopted home Los Angeles, the designer presented his Spring/Summer 2016 "Surf Sound: A Tribute to Contemporary Californian Surf Music Culture" collection. More recently, Kim Jones included aloha shirts in his penultimate Spring/Summer 2018 "island hopping" Louis Vuitton men's collection. Of course, Kim's recent collaborator, Supreme, has also created its own renditions, most notably as part of their Spring/Summer 2012 collection.
So, while Tommy Bahama and tacky island resort wear still persist, the aloha shirt no longer bears that inseparable—and intolerable—connotation. In fact, like the origins of the aloha shirt, the current purveyors of it are multinational and diverse. While the aforementioned high fashion and streetwear labels have brought the aloha shirt broader attention, legacy manufacturers and current locals alike are still honoring the local icon. Reyn Spooner is still producing it own versions after several decades, as is hawaiian Sig Zane, who opened Sig Zane Designs with his wife Nalani Kanakaole in 1985 and creates designs of local Hawaiian flora by hand. Over the past decade, with the help of his son Kuha'o, Sig Zane has also collaborated with an impressive array of brands, including Vans and Hurley. Although the shirt is now as common on runways as at your local Urban Outfitters, the aloha shirt still and always will thrive in its original home of Hawaii.